The Padres seem destined to be a team known more for the talent they produced and lost than the talent out on the field. When trying to come up with my favorites for the Pads it became clear that I don't identify that many players as being purely Padres. This is true for almost every team, as free agency has made every team a mish-mash of parts, but the Padres take it to another level. So missing from this list are guys like Roberto Alomar, Fred McGriff, John Kruk, Joe Carter, Tony Fernandez, and Sandy Alomar Jr.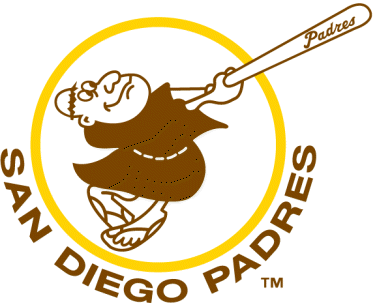 A couple of my first little league teams in Texas were named the Padres, so from an early age, I've always followed the boys from San Diego. In an odd twist of fate or maybe just a coincidence, I ended up attending college in San Diego and still find myself living in the area today. SO the Padres, despite my misgivings, have become a bit of a home team to me. Although I rarely root for them, I do find that I see about as many padre games as I do any team other than the Angels. So this is my look at the guys who've become a part of my favorite Padres, no matter how hard I might have tried to avoid it.
1. Bip Roberts
If you've read this blog for any length of time, you may be aware that I have a bit of an obsession with Mr. Leon Roberts aka Bip. So you would think he would be a no-brainer as my number 1 Padre, but I struggled with just where to put him. In the end, the Padres edged out the Reds because San Diego is where I first witnessed the greatness of Bip and of course there's the card below. That pretty much cemented it.
For more on the genius of Bip, click
here
,
here
or
here
.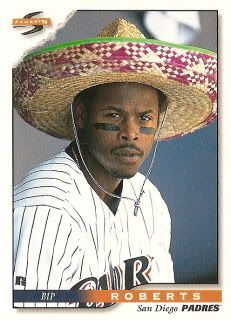 2. Tony Gwynn
Mr. Padre. I'm sure that on 99 out of 100 Padres fan's lists he'd be #1, but for this guy he's a run away #2. Gwynn was one of the great singles hitters of all-time and I remember spending many hours reading
Tony Gwynn's Total Baseball Player
. A serious bonus to Tony for being my alma mater's best baseball player of all-time, one of the best basketball players of all-time and the current head coach of the team.
3. Benito Santiago
If you grew up during Benito's formative years in the majors, you had to be obsessed with the way that Benito would throw out runners from his knees. My friends and I would spend half the afternoon just trying to throw each out by doing this. Inevitably the majority of our throws sailed into center field or bounced in front of the pitching mound, but that only made the arm of Benito even more awesome!
4. Jake Peavy
One of the main reason to watch a Padre game these days is the opportunity to see Peavy on the hill. He is one of the best pitchers today and is certainly not getting the exposure he deserves because he's on the West Coast in San Diego. I was really hoping Peavy would be traded to the Angels this off-season and maybe with any luck it'll still happen as we near the All-Star break. Of course the Pads will need to start losing a few more games.
Honorable Mentions:
Adrian Gonzalez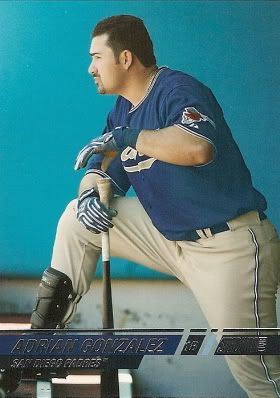 If Peavy is the reason to watch the Padres on defense, Gonzalez is the reason to watch them on offense. It makes no sense for a team to give him any pitches to hit, but he makes the most of his opportunities and continues to rake, even in Petco.
Carmelo Martinez
From one Latin first basemen to another. I can't even tell you why I'm a Carmelo fan, but I'm pretty sure it has a lot to do with the name Carmelo and my love of Caramello candy bars.
Andy Benes
Benes looked huge out on the mound. As the first overall pick in the 1988 draft, Benes was one of the first "prospects" that I was infatuated with as a young kid.
Josh Barfield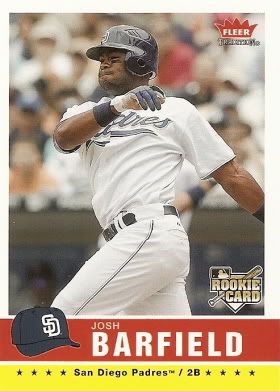 I really thought this guy was going to be a solid second baseman for a decade with the Pads. He's never been able to live up to his promise and hype, but I still look back fondly on his rookie campaign.
Quilvio Veras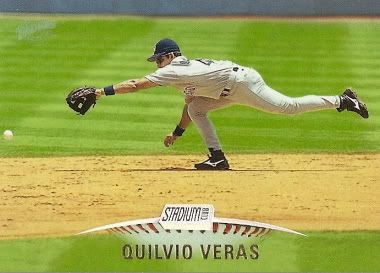 Another guy that I can't quite put my finger on why I like him so much. He was a key, although minor, part in the 1998 NL championship squad. He always seemed to be diving for a ball up the middle or in the hole, and often making the play.
So after much delay, the Fave 4 Padres have finally made their appearance. I probably should have just traded this list away to another blogger for a few other quality posts, but chances are in true Padres spirit I would have received something promising that I would have bungled or traded away a few weeks from now.
Go Halos!