The Diamondbacks have barely existed for a decade and in those 10+ years I haven't found a whole lot to root about in regards to this team. I despise the Yankees which led to me "rooting" for the D-backs in 2001, but even so I didn't really like team. I liked one player on that squad and it was only because he was one of my baseball heroes as a kid.
Really the highlight of the Diamondbacks for me came a couple of years back when I went to Arizona for Spring Training. Before we left for home, we stopped by the Bank One Ballpark and at the T.G.I. Friday's overlooking the field. Of course, it was the off-season and we were only entertained by construction crews working, but I like to think that may have been better than watching the team.
1. Orlando Hudson
I was really surprised when the D-backs decided to let him go, that turned into happiness when I saw the Dodgers were going to sign him, that then turned to giddy excitement watching him hit for the cycle on Monday. The guy seems to always be on base, always talking and always making great plays in the field. Why more teams weren't clamoring for his services I'll never know.
2. Travis Lee
Travis is a San Diego State boy, which automatically puts any player in contention for one of these lists. Combine that with an interesting story about his drafting and he becomes more intriguing. Lee was picked 2nd overall in the 1996 draft by the Twins, who failed to offer him a contract within, I believe, 15 days and he was granted free agency. He then went on to sign with the D-backs for over 10 million dollars. This was before I was really aware of Scott Boras, so it didn't really bother me. Now, it makes my stomach turn a little. Even so, Travis burst on to the scene in '98 and looked to be a legitimate star in the making. Unfortunately, that would not be the case. At least Arizona was able to package him for Curt Schilling.
3. Steve Finley
Defensively, Steve Finley was as good as it gets in center field. I enjoyed watching Finley in San Diego, but it seemed like he got much more attention in Arizona for his exploits. The only stain for me was his time as a Halo. Uggh. He absolutely robbed the Angels of 6 million dollars. Subsequent years Finley was followed by Edgardo Alfonzo and Shea Hillenbrand, so my hatred of Finley has transferred on.
4. Justin Upton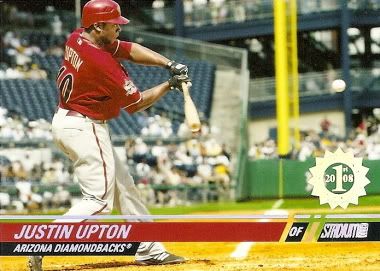 I must admit that much of my interest in Upton is due to baseball cards. In 2006, I pulled a Justin Upton refractor autograph that is probably one of my best pulls ever. Due to monetary reasons I have rooted for Upton ever since. Thanks to that interest I've actually come to appreciate Upton as a pretty solid young player. The D-backs are known for their young nucleus and this guy may end up being the best of all of them. Time will tell.
Honorable Mention:
Mark Grace aka The Man Who Would Be #1
Mark Grace is one of my all-time favorite baseball players, however he can only make one list and this WILL NOT be the one. I was happy to see Gracey get his ring with Arizona, but other than that I wasn't all that fond of his days with the D-backs. I like my Grace as a Cub, no substitutions.
So there's the meager list of Favorite Diamondbacks. I'm sure their fans have plenty more players to root on, but I just can't muster up the enthusiasm. One more expansion team to come, the Marlins. I'm not a Marlin fan either, but I have rooted for a heck of a lot more of their players.
Go Halos!