Yeah, yeah they're the World Champions, no one's giving them much of a shot to repeat this year, instead focusing on the Mets, etc., but none of that matters to the Fave 4. I'm not easily won over by championship seasons and the stars that produce them. Instead, the Fave 4 prefers to look back fondly on the players who helped build their legacy over the life of my collecting and baseball watching. So while some may be focused on the snazzy team, in the new stadium with the snazzy uniforms, I recall this: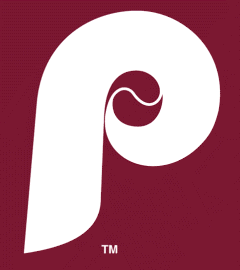 I'm sorry Phillies fans, but those were some awful logos and uniforms that your team was responsible for in the 80s. I don't remember liking a whole lot about the Phillies during that time, but I think it's my hatred for the logo and look that has led me to think this way. As I started to come up with my list of Favorite Phils, it became apparent that I actually liked a good number of them. All these years I've let my keen eye for fashion deter me from liking this team, when I'm actually a fan of a number of their funky looking players. And trust me, this is a motley crew to say the least. With no further bashing, I give you the Fave 4 Phillies.

1. Kent Tekulve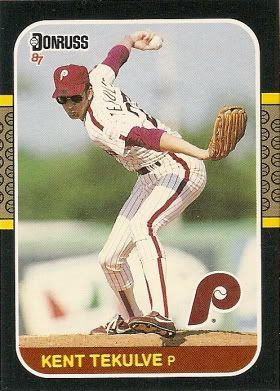 I realize his best years were with the Pirates, but those weren't my years. So when I think back about the Phillies and my days of collecting them, I think of this man. The immortal, Kent Tekulve. Could there have been a bigger nerd icon on the 80s? He was not an attractive man, he had a bizarre throwing motion and he wore glasses that became dark in the sun. We used to kick the crap out of any kid who dared wore glasses like those, prescription be damned. But Tekulve made it cool. I absolutely love this guy. If I could find a poster of him, I would hang it over my bed with pride and my wife would just have to deal with it. Even better, an oil painting.
TEKULVE!
2. Juan Samuel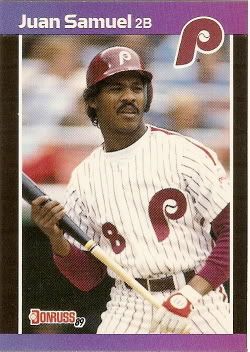 Really was there any doubt that Juan Samuel would make the list. I'm only pissed I couldn't find his card from Studio in time. The jheri curl, the stash, the general awesomeness, this is what makes Juan Samuel a member of the Fave 4. I could spout out stats and amazing plays, but if you've ever seen Juan Samuel play, then you know that none of that is necessary.
3. John Kruk
Maybe the most mainstream of the Fave 4 members, Kruky has gone on to become just about as recognizable for being on ESPN as he is for his baseball playing exploits. In all honesty, I don't really like him that much on TV. His humor comes out occasionally, but it seems like I always tune in when he's saying something kind about the Yankees and well, that just doesn't fly for me. However, Kruky the player was a ton of fun, pun intended. I love the portly players and Kruk was a favorite from the start in San Diego. Someday I may have to rank my favorite baseball fatties. In fact, I'm now trademarking the Fave Fatties list. Coming soon.
4. Von Hayes
Can you imagine what it must have been like during 1987 when Von Hayes and Kent Tekulve hit the nightspots together. I can. It goes a little something like this:
Von and Kent spot some ladies at the bar and approach.
Tekulve: "Hello ladies, can we buy you a drink?"
Lady #1: "Get lost creep!"
Von: (in polo shirt with collar turned up) "Woah, woah, woah, ladies. Don't you know who we are?"
Lady #2: "A couple of loser accountants out for the night hitting on girls they could never dream of actually nailing?"
Tekulve: (insulted) "Vile whores! I am Kent Tekulve!"
Von: "And I'm Von Hayes!"
Ladies staring at each other cluelessly.
Tekulve: "Of the Philadelphia Phillies..."
Von: "Maybe you've heard of us now?"
Lady #2: "I don't know who you two think you're fooling, but you two are pathetic. Good day!"
As ladies walk away, Tekulve makes one final plea.
Tekulve: "I've seen Mike Schmidt naked. More than once."
Honorable Mentions:
The aforementioned Mike Schmidt. Here seen fully clothed.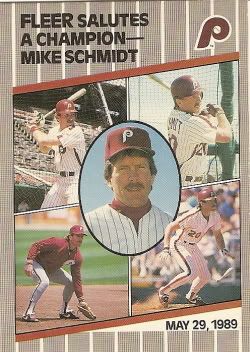 Hall of famer, check. One of the greatest 3rd basemen of all-time, check. Memeber of the Fave 4, no chance. Did you see that list above? You gotta be a little bit off to make this list. On a sidenote, is the above 1989 Fleer card perhaps one of the most god-awful cards of all-time. I vote yes.
Mickey Morandini
I can only imagine the bar-hopping if Mickey had been able to make it to the show by 1987. That would have been a dream team. Hayes, Morandini and Tekulve. Sounds like a nice law firm.
Steve Bedrosian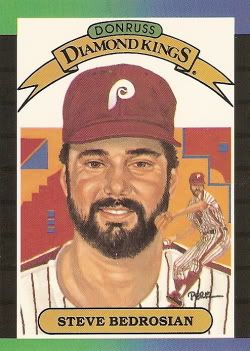 Killer beard bro.
Chase Utley
The rich man's Mickey Morandini
Jimmy Rollins
If this were 1991 he'd probably be one of my favorite players in a Barry Larkin sort of way.
Shane Victorino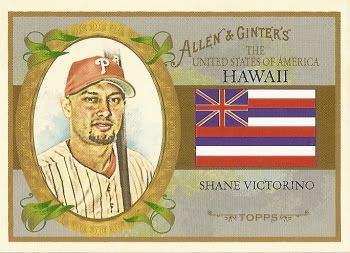 Two times a Rule V draftee. I remember being pissed that the Padres let him go after drafting him from the Dodgers. His numbers were pretty poor, but I just remember liking something about him. Apparently I was right. Me-1 Padres -0.
Dickie Thon
Say it out loud. Dickie. Thon. Hee Hee!
Perhaps my favorite list so far. All these years of discriminating based on jersey and logos, who knew all of the kick assness going on Philadelphia. But now I leave you with what you came here for, more Tekulve.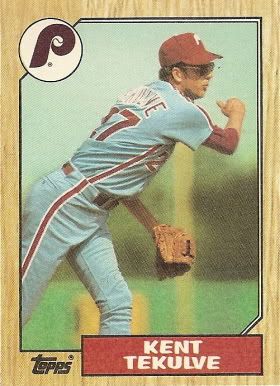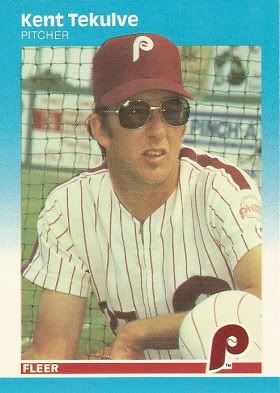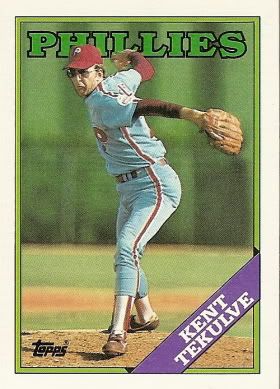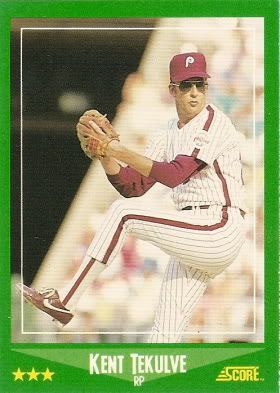 TEKULVE.