To put it bluntly, I don't like the Giants. In fact, watching them get demolished by the Dodgers right is what prompted me to post my list today. At least if I'm going to show any Giants some love, I'll make it on a day when it's not so fun to be a Giant fan.
The Dodgers were always my team in the National League, as they were my grandfather's favorite team and he would listen to Vin Scully every single night on the radio. When we would come out to visit he'd always take me to see either the Angels or Dodgers and he instilled a healthy hatred for the Giants at an early age. On top of that, Barry Bonds is the most unlikable player of my generation and my Halos made a great comeback against the Giants in the World Series to finally win it all. So, my history with the Giants goes back, but very little of it is positive, but I'm able to see through that fog of hatred and at least show love for a few players.
1. Steve Scarsone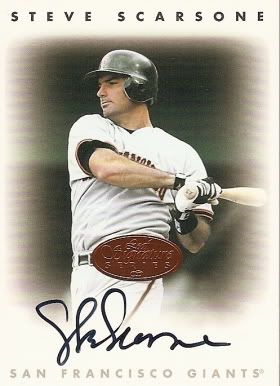 The magic of baseball cards is responsible for my love of Steve Scarsone, the only Giant I will truly admit to liking. Scarsone was born in Anaheim, CA and I know this fact because I read it on the back of Steve's baseball card. Why is this important? Well, in the summer of 1995 my best friend and I had tickets at the left field foul pole at Dodger Stadium to see the Giants battle the Dodgers. Our reason for purchasing tickets at the pole was our desire to yell at Barry Bonds every second of the game for 9 innings straight.
We got there early for batting practice and only fans with tickets in the front row were allowed to stand against the wall to try and grab batting practice balls. With great luck I was able to snag not one, but two baseballs. On the second, which I must admit was an amazing grab, Steve Scarsone made his way over to congratulate me on the grab and taunt the Dodger fans by grabbing grounders that came close to the fans and then toss them into the infield. Steve was having a lot of fun with it as were the fans. After talking to Scarsone for a few moments I asked him to sign one of my baseballs and he told me he couldn't sign for a Dodger fan. That's when the magic of baseball cards came into play.
Scarsone wsn't exactly the most well-known player on the field, but I knew a nugget and I went with it. "Come on Scarsone, we're both from Anaheim. (I'm not incidentally) You gotta show some love for a hometown boy." Apparently this impressed the man and he signed my ball, with a ballpoint pen I borrowed from another fan, and continued to talk baseball and mess with the fans for the rest of batting practice. For this reason, Steve Scarsone is not only my favorite Giant, but one of my favorite baseball players ever.
2. Kevin Mitchell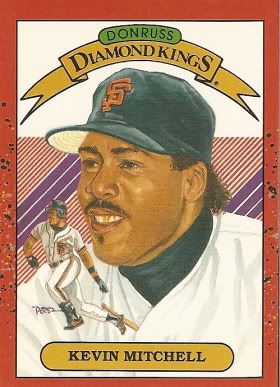 Seriously, is there another player who ever had a Diamond King card that featured his gold tooth prominently? That alone secured Kevin Mitchell this spot on the list. Combine that with a somewhat chunky/muscular frame, his 47 home run MVP season in 1989 and that barehanded catch he made on the run, make Kevin Mitchell a Giant you can kinda root for. His bizarre behavior including leaving to play in Japan in 1995 after a 9th place MVP season and Dwight Gooden's accusations that Kevin once decapitated his girlfriend's cat make Kevin Mitchell even more of a legendary figure.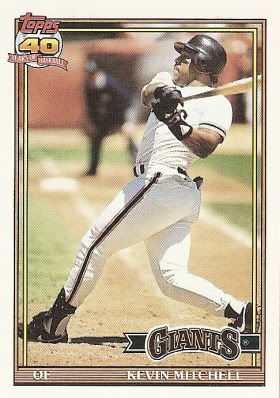 3. Robby Thompson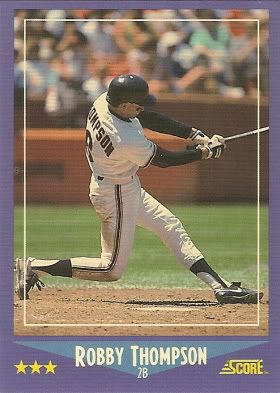 During my freshman year of college, my roommate brought his Sega Genesis and we would play World Series Baseball for hours, not like 2 or 3, more like 8 to 10. He was a huge Giants fan and since it was his system, I would play games with the Giants in an attempt to complete the entire 162 game season, playoffs, etc. For whatever reason, I could absolutely rake with Robby Thompson. By the all-star break I had over 60 home runs with Robby. He was an absolute beast. It was as close to Bo Jackson in Super Tecmo Bowl that I've ever seen out of a virtual athlete. I don't recall if I ever saw the real-life Robby Thompson hit a homerun, but his Sega counterpart was amazing.
4. Rod Beck
Big, surly, great stache, one of the first great closers I remember watching as a kid. Rod Beck went on to play for other teams, but to me he's a Giant and while I enjoyed watching him more when he played for teams other than the hated Giants, he was still a pretty amazing reliever during those days. His unfortunate death after his playing days seemed almost destined, as he had many problems with alcohol, etc.
Honorable Mentions:
Chili Davis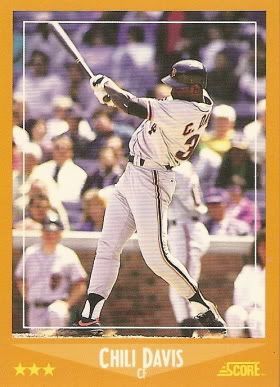 The Jamaican Sensation who I only recently discovered was Jamaican, was one of my favorite Angels and I remember him first coming up with the Giants. His name was Chili, what was a chubby kid in Texas supposed to do other than root for this guy?
Jose Uribe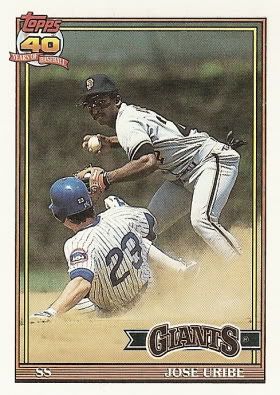 Uribe is one of those guys who I'm not sure why I like them so much, I just know I do.
Tim Lincecum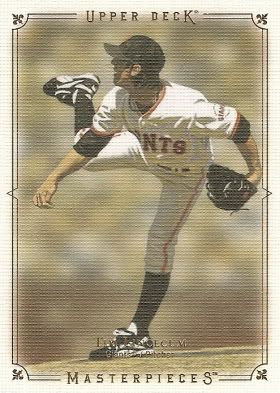 One of the only bright spots on the Giants these days. His delivery alone makes him a ton of fun to watch on the mound. Couple that with the fact that he has such great stuff and isn't afraid to throw all 9, makes Lincecum one of the really bright young stars.
The "I just don't like this guy" category:
Will Nuschler Clark
His middle name is Nuschler and as evidenced above, he needs another man to apply his eye black. Lame. I don't like you one bit Nuschler!
I finsihed this post as the Dodgers recorded the final out in an 11-1 blowout. Sweet poetry.
Go Halos!