This will most likely be the least interesting of all the Fave 4 posts and that's mainly because I'm just not that interested in the Colorado Rockies. They've made the playoffs a couple of times and even to the World Series recently where they laid an egg, but spurts of success just don't do it for me. Outside of the wacky 18-15 games that were once a staple of Coors Field, the Rockies just don't do it for me.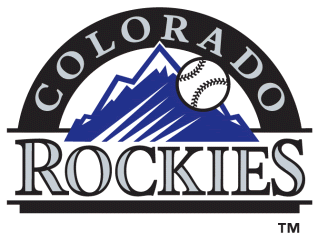 In fact, almost none of the expansion teams of the last couple of decades interests me, the one exception being the Rays who seem to have figured out how to bring up young talent and seem able to sustain their threat to topple the Yanks and Sox again this year. The Rockies just can't seem to find an identity. Is it going to be sluggers and rarified air, or speedy outfielders running down flies in a cavernous stadium with humidified balls? Well, whatever they eventually go with, you can be pretty sure I won't be around to watch.
1. Eric Young
If EY has ever played for a team you root for, chances are you're a fan. Outside of a few lame years at the end of his career, Eric Young has always been an exciting guy to watch. During the middle of his career when he played for the Rockies, Dodgers, Cubs and even the Brewers for a season, EY was likely to be on base and running at almost every opportunity. He also seemed to play with a real joy for baseball that I always appreciate in the players I watch.
2. Matt Holliday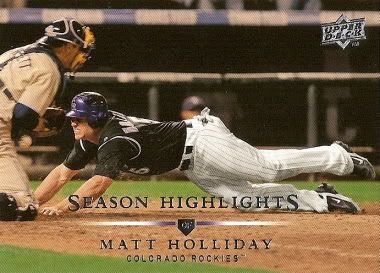 The face-first, bloodied up slide he made in game pictured above, is probably the only Rockies moment that stands out in my mind. I'm not exactly a Padre fan and so I was rooting hard for the Rockies to pull this one-game playoff out and put the Padre fans I deal with on a daily basis out of their misery. With this slide he did just that and brought a tiny bit of joy to my life. Now, Matt is playing for the A's and promises to be a thorn in the side of the Angels, until the A's either trade him or let him go via free agency. God forbid if they actually sign him to a long-term contract.
3. Troy Tulowitzki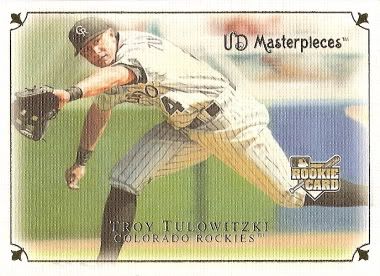 Troy is one of the players that my daughter has latched onto as a favorite. I think it's just because she likes trying to say "Tulowitzki", but whatever gets her interested is fine by me. Tulo seems to have all the skills to make him a star, but injuries last year really hampered him. Hopefully he will be able to overcome the curse of Clint Barmes and become the star the Rockies desperately need.
4. Todd Helton
I've never really been a Helton fan, but I always respected how he played the game. One of the few Rockies from the late 90s era who seemed like he would succeed no matter what stadium he called home. His gigantic goatee that took root a couple years back only strengthened his resume with me and landed him a top 4 spot.
Honorable Mention:
Larry Walker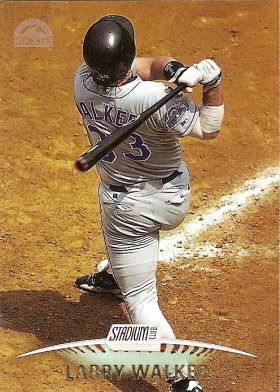 The first ever Canadian born MVP, that should count for something right? Well, it did get him the only spot in the Honorable Mention category. Not quite the MVP, but I'm sure Larry would be proud.
I wish I had something inspired to say about the Rockies and this group of players, but I'm at a loss. The Rockies will forever be that purple team who played their first game in Mile High Stadium and turned their pitchers into such headcases that they had to start tampering with the balls to make people sane. One hell of a legacy.
Go Halos!