When I wrote about the Padres, one of the problems I had was that they seem to always be a team of transition and outside of Tony Gwynn, it's hard to associate too many players with that franchise exclusively. If that's true of the Padres, it's even more so for the Marlins. A team known for "buying" its championships and then selling off the players that made it happen, the Marlins are the ultimate group of vagabonds.
Even so, I was able to think of a decent number of players that I really liked during their time as a Marlin. I feel like every season I'm hoping that the Marlins will topple the Mets or Braves, but often they seem to fade towards the end. This season they've jumped out to another hot start with a lot of good young talent, but I keep asking myself how it will fall apart this year.
1. Hanley Ramirez
I am thrilled that the Red Sox traded this guy to the Marlins so I can actually root for him. Can you imagine the kind of hype and ridiculous over the top talk we'd hear about this guy if he played in Boston. A Red Sox/Yankees game would cause my TV to explode with praise for Ramirez and Jeter. Instead, I get to flip over on the Extra Innings package and watch this guy play without worrying about all that. I can't think of another player that I'd choose to start a franchise with today other than Hanley Ramirez.
2. Mark Kotsay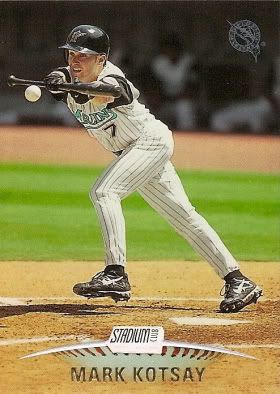 When I moved out to California, we would often go down the street to Cal State Fullerton to watch Titans games. This became an event during the mid 90s when Mark Kotsay was college baseball's best player. Sure he could play a good center field and hit with the best of them, but then he'd trot in as the closer as well. As well-rounded a player as you could possibly be. I was certain that Kotsay would continue to star with the Marlins, and while he wasn't amazing, he was a pretty solid player for the Marlins, Padres, A's and more. So while Kotsay should probably be #1 on the Fave 4: Cal State Fullerton Titans, he'll have to settle for #2 with the Marlins.
3. Charles Johnson
CJ was one of the best defensive catchers in the game and I first remember him in a couple of uniforms other than the Marlins teal. Johnson starred for both Team USA, above, and the Miami Hurricanes. He was another guy who I had such high hopes for out of college, after watching him in the CWS, but Charles could just never seem to hit with any consistency. Even so, CJ was a great catcher and caught all but one of the Marlins no-hitters and I was actually in attendance for the one AJ Burnett threw against the Padres. Needless to say I was one of very few in attendance that night. Kotsay, incidentally, was playing center for the Pads that night.
4. Jeff Conine
If there's a Mr. MArlin, I'm pretty sure it has to be Conine. Twice he was an all-star for the Fish and he was just a likable guy. My memories of Conine are few, but I just always felt like he was the face of the Marlins in their early years since he began his career (rookie season, I know he played a handful of games with the Royals) with the Marlins as they were starting out as a franchise. I can still remember that Orestes Destrade was getting all the hyp to begin that season for the Marlins, but Conine was the true star.
Honorable Mentions:
Juan Pierre
Pierre has seen better days as he is currently stuck behind all the young talent in LA and is the butt of many jokes due to his contract, but I really liked Pierre in Florida. He was a huge part of the 2003 championship and I was constantly rooting for him to get on base and cause havoc against the Yanks.
Josh Beckett
Recent head throwing snafu aside, Beckett is one of the dominant pitchers of this era. He has proven to be amazingly clutch in the postseason and his starts seem to almost assure the Sox a win in the playoffs. The Marlins made out extremely well with Beckett, getting a championship out of him in 2003 and then being able to trade him for Hanley Ramirez who stars for them today. Well done.
Mike Lowell
I prefer a Marlin Lowell over a Red Sox Lowell, but even so he's tough to root against. Another guy who seems like a genuinely good person, not to mention a heck of a hitter. I was shocked that he was essentially a throw in as part of the Beckett trade.
Gary Sheffield
Sheff is definitely a man without a home as far as major league teams go, but I remember my best friend having a "Sheff" poster on his wall in which Gary was pictured wagging his bat for the Marlins. He's surly, he's almost certainly a roid-aided player, but he's also a lot of fun to watch up at bat.
The expansion teams are done and were left with only a few more teams to go. The
Brewers, Reds, Cubs, Dodgers and Angels. Let the anticipation ensue.
Go Halos!