It's amazing how something cool can be turned into something lame so easily. Topps has pulled off the trick with two of their first releases of the year.
An example of "cool":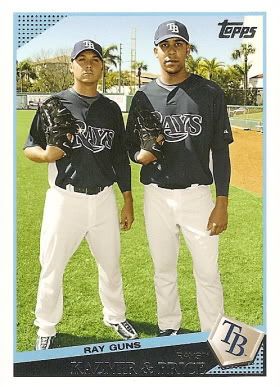 On of my favorite multi-player cards from this year's Topps release. Both Kazmir and Price have the same pose, demeanor and uniforms. The caption "Ray Guns" is clever and overall the card just works.
An example of "lame":
Really Topps? Was this necessary? Who came up with the idea of taking the photos from the "Ray Guns" shoot and turning it into this monstrosity titles "Young Hill Stars"? The caption alone is kinda lame, but superimposing James Shields in an entirely different pose, a smile of actual laughter rather than just the pose of the other two and an entirely different uniform is just lame. Either take the correct photo and use it or don't. It's that simple.
On a much happier note, it is officially spring break for me and I don't have to see another student for 2 weeks. On top of that, we're less than one week from Hailey's Opening Day, when we go to see the Angels take on the A's in Anaheim next Thursday. Today her new Angels hat and necklace arrived and she was THRILLED. So not only am I happy, but Hailey's happy and Vlad is showing his excitement for all of us.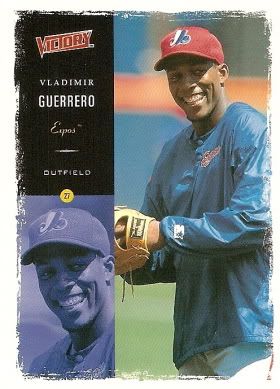 Go Halos!