There's something about the Reds that I just like. I wouldn't consider myself a Reds fan in the traditional sense. I don't live and die with their wins and losses and I don't fret about the moves the club makes, but I just really seem to enjoy the team. For a lot of clubs, I'll have a year or two sprinkled in where I follow them a little bit closer or come across a player that I really enjoy watching, but the Reds are somewhat different.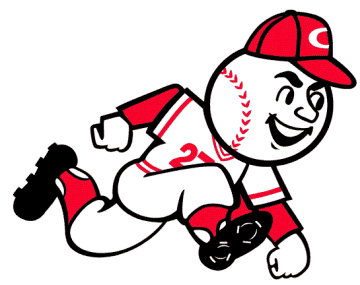 Since as far back as I can remember, I've enjoyed the Reds a great deal. Maybe it's the cool logo of a ball man with a mustache, the bright Red unis, or just the procession of players that have put on the red leggings. Either way, I'm as close to a Reds fan as one can be without actually being a real fan. If that makes any sense.
1. Barry Larkin
I'll never be able to do justice to Barry Larkin in the way that
this man
can. But I'll give it a shot. Barry was one of the smoothest shortstops that I ever saw play the game. He was a 30-30 shortstop without the aid of steroids, at a time when that seemed virtually impossible. Look at the man's wrists for god's sake.
Yup, he's got his own face on his sweatbands. It gets no more gangsta than that. In 1990, no one was giving the Reds a chance against the dominant A's in the World Series, but thanks to Barry and some other fellas, the Reds not only won, but swept the World Series.
The man was special. Plus I had a sweet barry Larkin model baseball glove. Take that.
2. Brandon Phillips
Barry larkin is a clear number one for me, but Brandon Phillips is threatening. I love the way this kid plays baseball. His 2007 season was severely underrated, mainly because it was unseen by most of us. He fell of a little last year and this year's start hasn't been too great, but the man has swagger. Hopefully he can step it up and show that my man crush is well-founded. How many other second baseman have won a gold glove with their hats tipped sideways? Get this man some wristbands with his face on them.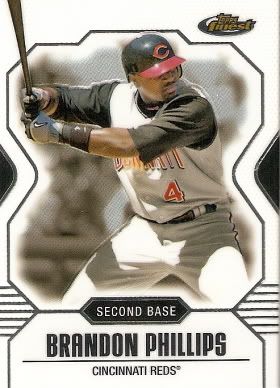 3. Eric Davis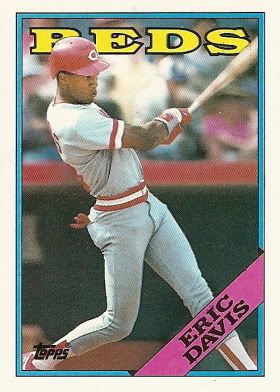 If you've ever played wiffle ball then you know the magic of Eric Davis. Everyone of us wiffle ball players has gone into the Eric Davis stance, dipped the bat down and then unleashed fury. Eric Davis was probably the first baseball player I was truly in awe of. The man hit 37 home runs in one season and stole 80 bases in another. He was just a physical freak who unfortunately couldn't stay off the DL. The 1990 World Series in the perfect snapshot of Eric's career, a home run in his first at bat and a lacerated lung diving for a ball.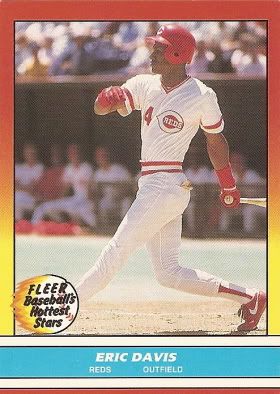 4. Billy Hatcher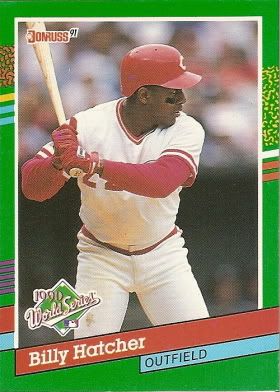 A .750 average in the World Series. .750!! Next highest, Babe freaking Ruth. I first started to like Billy Hatcher when he was with the Astros and he was a fairly unknown player. That's what made his performance in the 1990 World Series so much more special to me. I felt like here was a guy I knew about and no one else did and he was absolutely killing it. The only thing that kept him from an MVP award for the series was a certain pitcher on the honorable mentions list.
Honorable Mentions:
Jose Rijo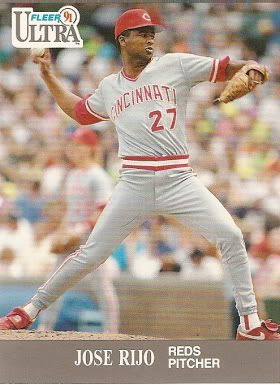 In his only World Series, Rijo was flatout dominant against his former team. I was convinced he was the greatest pitcher alive during that series. Even now when I look back at his career statistics I'm always underwhelmed. He was good throughout his career, but never as dominant as he was during that series.
Chris Sabo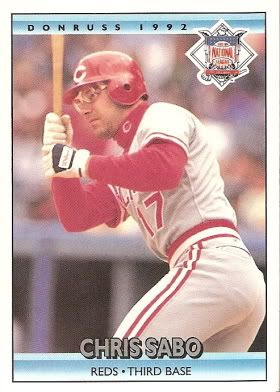 If you collected baseball cards during 1988, you were obsessed with Spuds. One of the first real baseball card phenoms from my youth. His career never lived up to the hype, but how could you hate on a guy wearing Rec Specs?
Rob Dibble
of all the Nasty Boys, Dibble was the one who really intrigued me. The man's temper was legendary and I loved that it seemed like he was going to throttle someone every time he gave up a hit.
Aaron Harang
He's a San Diego State Aztec. What more needs to be said. Well, he's a horse. He dominated for my fantasy team a couple of years back and he got absolutely screwed in the NL Cy Young voting in 2006.
Bip Roberts
Bip is my man, that goes without saying. I made the decision to put him on the Padres list, so unfortunately he had to be left off the Reds list. Needless to say, the man is a legend and deserves to be number one on the list of every team he played for.
Baseball needs the Reds to be succesful. I need the Reds to be succesful. There's just something that makes baseball better when the Reds are in contention. Unfortunately, that may be years away.
Go Halos!