Finally the day has come, the Brew Crew gets the recognition they have been waiting for all year. The Brewers are an oddity of a franchise. They go from perhaps the greatest logo of all-time, to a procession of average to below average logos. Me personally, I feel nothing but love for the old mb glove.
Befitting Milwaukee, their two greatest players are two of the whitest baseball stars of the past two decades, Paul Molitor and Robin Yount. Yet at the same time, they gave Gary Sheffield his start and now are a team known in large part for their African American stars. I don't know why this fascinates me, but it does. On to the list.
1. James Elmer Gantner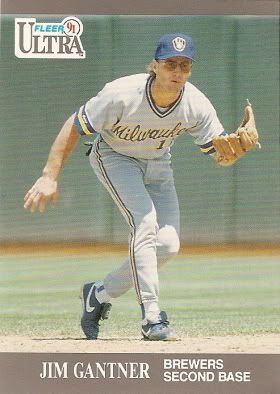 This man is the Milwaukee Brewers to me. Tekulve gets a lot of the love for his glasses, but Gantner deserves a little bit of respect in this regard. Gantner was not exactly the superstar of the franchise, in face he spent 17 seasons playing mostly mediocre baseball, but he had those glasses and that has always been enough for me. Bask in the Gantner.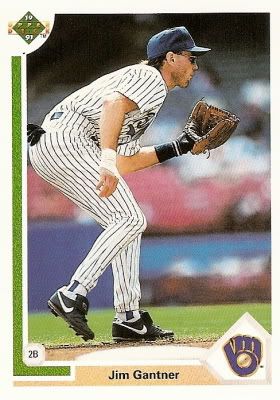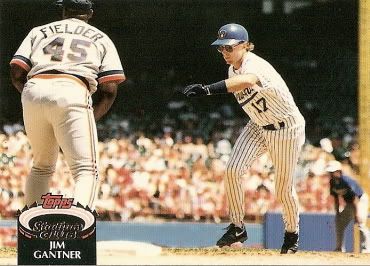 2. Dale Sveum
From one awkward looking white guy to another. In making this list I realized why I think of Milwaukee as the geeky white guy capital of America and that's because my favorite Brewers are straight out of that mold. Or maybe I like these players because they seem like they're the epitome of Milwaukee. Chicken, egg. I have no idea. All it takes is one look at Dale Sveum's
Baseball Reference page
to realize it's nuts to like Dale Sveum. His stats are nothing to be proud of, but I like him. It's probably the goofy stache.
3. Dan Plesac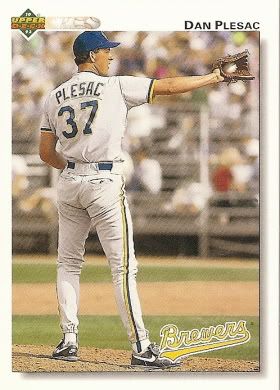 I have a soft spot for lefty closers. Couple that with the goofy white guy factor and the fact that Plesac was dominant for my Strat-o-matic baseball team, and you have a man that is more than worthy of the #3 spot. Somehow Plesac was still in the league in 2003 with Philadelphia. How I wish I could be reborn as a situational lefty. Do you realize the type of money guys are making these days because they're lefthanded and willing to pitch to lefty batters three times a week. It's a good life.
4. B.J. Surhoff
How is it that every player that comes through Milwaukee seems to play for 18 seasons? Surhoff was always a guy who was easy to root for. Surhoff is the perfect guy to be described as "gritty". Catcher, outfielder, one time all-star, goofy white guy from Milwaukee, member of the I Heart Halos Fave 4...the legacy of Surhoff is complete.
Honorable Mentions:
aka Bringing some Flava to Milwaukee
Gary Sheffield
Douche? Yes. However, as a kid during a time when there was only one ESPN network, we weren't inundated with all of the off the field information that we are now. I completely understand why any true Brewer fan would hate this guy, but I spent to many hours staring at his rookie cards not to have a soft spot for him.
I realize the 'roids would have made a career at shortstop a difficulty, but can you imagine this guy as a 500 home run shortstop? Sheff vs. Ernie Banks, quite a comparison.
Anthony Gwynn
I don't think Gwynn is ever going to make the impact with Milwaukee that I hoped he would, but I'm still holding out for him. Anthony was a really good outfielder for San Diego State and although I knew he probably wouldn't amount to much in the majors, I still keep holding my breath, waiting for the breakout. At least he destroyed Hoffman and the Pads a couple of years back.
Greg Vaughn
His best seasons were in Cincinnati and San Diego, but I like my Vaughn as a Brewer. Although his career started out slowly, you just always knew that this guy was going to be a beast whenever he made contact. Never a threat to hit .300 or .260 for that matter, Vaughn was the prototypical 80s power hitter, stuck in the 90s.
Teddy Higuera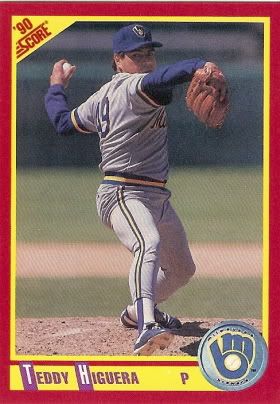 Teodoro began his career as the new Fernando. A lefty Mexican pitcher who was absolutley dominating the league. Unfortunately injuries played a cruel joke on us all and kept us from experiencing Teddymania.
Bill Hall
Bill Hall hit 35 home runs in 2006. Look it up. Of course he hasn't approached those numbers again, which always worries you a little bit, but it's not like he morphed from stick figure to Incredible Hulk ala Barry.
Fatty McFatterson
The fattest vegetarian who ever lived.
Rickie Weeks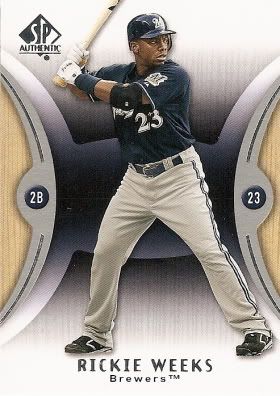 I keep waiting for this guy to break out and become a star. I don't think it's gonna happen. Almost makes you long for the days of Pat Listach.
Ryan Braun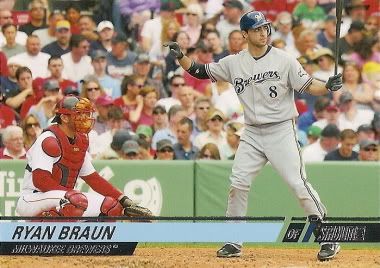 This guy has the potential for a scary career. He's already off to one of the finest starts I can remember any player having. Normally you don't start thinking about guys hitting 500 home runs after two seasons, but it certainly seems like a strong possibility.
The Legends
Paul and Robin
I don't know how to justify my dislike for these two guys. They are certainly both deserving hall of famers and the greatest players in Milwaukee history, but I'm just not into these two. Making matters worse, I can't even blame it one their dorky whiteboyness, since clearly my list is populated by these fellas. I'm certainly a bitter Ruben Sierra fan as has been previously documented, so that somewhat explains the Yount exclusion, but I don't know what I have against Molitor. Let's just say he took my mom Dorothy Mantooth out for a nice seafood dinner and never called her back!
Go Halos!