A team that was on the cusp of greatness in the early 90s, that has now become a laughingstock. Unfortunately for the Pirates, the future isn't looking so bright either. They seem to be in a cycle of suck. Needless to say, the Fave 4 for the Pirates spends very little time dwelling on the current day Pirates, in fact it doesn't even visit the boys. This isn't out of disrespect for the current crop, but ignorance of their existence.
I may be able to name off a couple of their current players, mainly because I continually pull their crappy autos and game-used cards, but I can't remember the last time I watched 9 full innings of a Pirate game. I honestly don't know if I've sat through a full inning, top to bottom, of a Pirates game in the last decade.
So let's take a step back to a time when the Pirates were a respectable contender, the Fave 4: Pirates.
1. Bobby Bonilla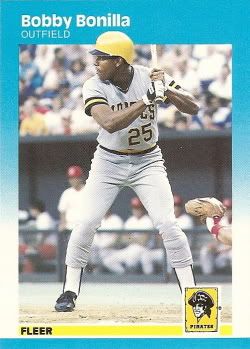 The less heralded member of the Pirates outfield that included Barry Bonds, Bonilla was the guy I always liked. It's funny, I will forever think of Bobby Bo as a Pirate, despite the fact that he only played 5 full seasons with Pittsburgh and 10 seasons with other teams. Bonilla's final two seasons in Pittsburgh were his best and despite not becoming the star the Mets had hoped he would become, Bonilla won me over during the Pirate years.
2. Mike LaValliere
Spanky. How can you not root for a fat catcher with the nickname Spanky? Very few could rival Spanky in the lack of speed department, but that's ok. His defense more than made up for what he lacked on the basepaths. Plus he was a right handed throwing, left handed hitting player and that always fascinates me.
3. Lloyd McClendon
I first became a McClendon fan during his limited days with the Cubs. His Pirates years were more productive and eventually he would become Pittsburgh's fiery manager. Again, my proclivity for fat guy ball players comes out, but I'm ok with that. We all need role models.
4. Jason Kendall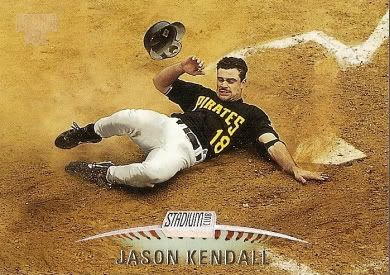 The antithesis of what you expect from a catcher, Kendall was a guy who could hit for average, steal bases and the man could get hit by a pitch while he's standing on deck. Kendall's productivity has waned over the years, but as a Pirate he was a lot of fun to watch.
Honorable Mentions:
Jose Lind
Chico. I really wanted Chico to make the Fave 4, but he was just edged by Jason Kendall. Lind wasn't exactly an offensive force, but his glove was amazing at times and he had some great athleticism. This athleticism can be seen on the back of his 1991 Upper Deck card as seen on
Baseball Cards Come To Life!
Doug Drabek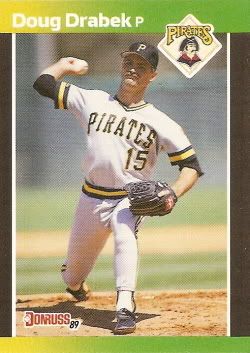 The ace of the Pirates staffs of the early 90s. This guy just seemed like a competitor that wanted it more than other guys.
Andy Van Slyke
The slick fielding center fielder who played in the middle of the Bonds Bonilla sandwich.
There they are, the Fave 4 Pirates, thanks to Kendall at least they had one player from this decade on the list.
Go Halos!
One day until spring break. The kids think it's only for them, but they have no idea how much the teachers look forward to this.