The Cubbies. If like me, you grew up without a real home team, the Cubs or the Braves most likely became a big part of your life. For me it was the Cubs, Harry Caray and WGN. Every summer I would look forward to going outside while it was still cool, playing wiffle ball and other games, then heading inside around noon for lunch and the Cubs. Wrigley quickly became my home team, despite its location over a 1,000 miles away.
The Cubbies have always been the lovable losers, but some of my first memories of the Cubs were as *cough* Winners *cough*. Yup. 1989, one of the great Cubs seasons I can remember. 1987 was fun thanks to the Hawk and 1988 meant the emergence of Mark Grace and my total fascination with him. But 1989 was special. I was watching a team every day as they made the chase for the pennant. Too bad the damn Giants had to ruin everything.
1. Mark Grace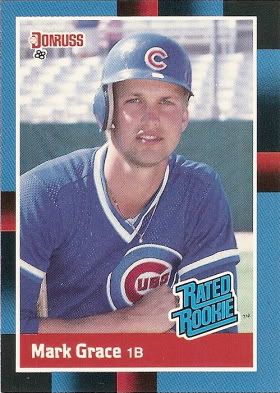 Grace will forever be one of my favorite baseball players of all-time. He didn't have the star power of guys like Griffey or Canseco, but he was my guy. When he came up as a rookie, I was instantly sold. I was never a fan of Leon Durham, and I wasn't even watching the team in 1984 when he committed his biggest gaffe. Grace was the young golden boy with all the promise. I hoarded his rookie cards and became obsessed with his play. His battle with Will Clark in the 89 NLCS was epic and had me convinced he'd become one of the greats of all-time. I hated to see him leave the Cubs, but at least he went on to win a championship.
2. Ryne Sandberg
Ryno was an amazing second baseman during a time when second baggers didn't do the things he did with a bat, especially when they could flash the leather. His 40 home runs in 1990 were just ungodly to me. I wasalways thrilled to pull a Sandberg card out of any pack and my friends were always willing to trade them to me, so I filled many a binder page with the man's image.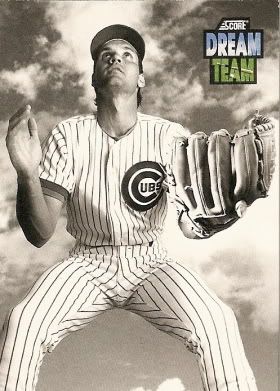 3. Jerome Walton
Jerome Walton might have introduced me to the idea of Rookie of the Year does not necessarily mean future all-star/MVP. I loved watching the rise of Jerome and Dwight Smith during their rookie years and figured these guys were on their way to becoming an amazing duo for years to come. Not so much, but I'll still never forget Jerome and his hat under helmet awesomeness.
4. Hector Villanueva
My favorite fat catcher. There was no better feeling than finding out that Joe Girardi or Rick Wilkins was on the bench and my boy Hector was gonna get some time behind the dish. Added bonus, won the Puerto Rican league triple crown. There's nothing he can't do.
Honorable Mentions:
Andre Dawson
I wish I had known more about the Hawk before he made it to Chicago, but I still enjoyed the hell out of the man while he was a Cub. No one has ever been as menacing with a bat in his hands. And that includes my boy, the much hated, Albert Belle.
Alfonso Soriano
I know that as soon as you call a player underrated, he essentially becomes overrated, but I feel like we are taking for granted how good this guy is. His combination of power is speed is rare in the game today and he is a ton of fun to watch.
Carlos Zambrano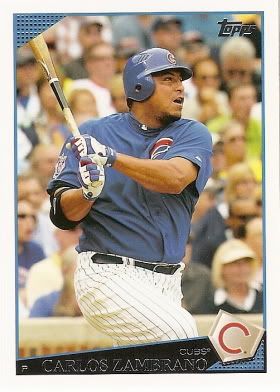 Has there ever been a pitcher that's more fun to watch at the bat than on the mound? And that's saying something since he is a beast on the hill as well.
Doug Dascenzo
He was petite, not an attractive fellow, the definition of an underdog and to top all that he was an outfielder who is pictured on most of his cards pitching.
Greg Maddux
I was heartbroken when he left for the Braves. Ok, heartbroken is a bit strong, but it was upsetting. Just an amazing control pitcher.
Lloyd McClendon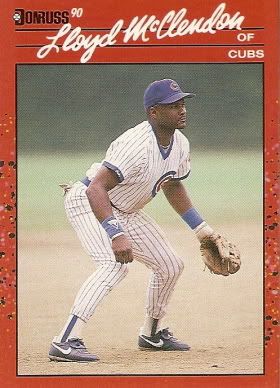 I already talked about him on my
Pirates list
, but he was a Cub to me first and that's how I still think of him.
Mike Harkey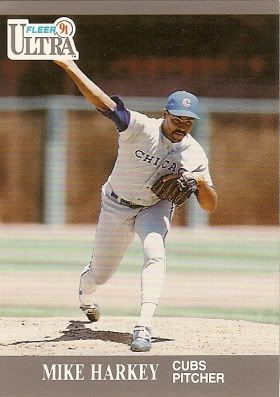 After a really good rookie season in 1990, Harkey never really put it together again. I got his autograph at a show in Texas when I was young, wearing my Grace jersey. The show was sparsely populated and Harkey spent about 10 minutes talking Cubs with me. Very cool.
Mitch Williams
A heart attack on the mound. He was just so much fun to watch, although you always thought he was about to combust. It still kills me that he became synonymous with the Joe Carter walk-off World Series home run.
Shawon Dunston
Combine the Shawon-o-Meter with the rocket arm and I was won over instantly. Half the fun of watching the Cubs in the field was hoping to get a glimpse of Shawon uncorking one.
The Cubs were certainly the team of my youth thanks to the fine people of WGN. To this day they still hold a small place in my baseball heart. Hopefully they'll win that elusive title someday, but then again half the fun of the Cubs is that they just seemed destined to never pull it off.
Go Halos!