I don't really have the time or energy to properly post and do justice to this card, but I'll give it a shot anyhow. Over the last couple of weeks I've gone from just organizing my cards into teams, to actually getting a chance to go through them more closely. One of my favorite players to collect as a kid was Bo Jackson.
It was impossible to escape the superstar known simply as Bo. At a time when there was no internet available for following sports, Bo was everywhere. NFL, MLB, commercials, magazine ad and of course sports cards. I can't even imagine how big a star a guy like Bo Jackson would be in today's world of over-saturated media coverage. Honestly, we're probably lucky that Bo was a part of the 80s/90s and not today. After about a month of Bo in today's world, we all would have turned on him and hated ESPN for the constant coverage of all things Bo.
I was all about Bo as a kid. I had pictures from Sports Illustrated on my binder at school, posters on my walls at home and every baseball and football card I could find. Everyone wanted the Score card featuring Bo with bat and shoulder pads and I was a fan of most of his football cards, but for me it was always more about the baseball cards.
I was fascinated by the 87 Topps Future Star card, I was always in search of cards from the 1986 traded sets, and it seemed to me like every Bo Jackson card was a beauty. Even so, it wasn't until 1990 that I found what has become my favorite of all Bo Jackson cards.
1990 Upper Deck
Bo was the ultimate athlete and this card shows that mix of grace and power with ease. As far as baseball, Bo will most likely always be remembered for his home run in the 1989 All-Star game in Anaheim, breaking bats over his knee and running up the outfield wall. This card features Bo in the field, maximum effort and as always (at least in the eyes of a 12 year old) coming through with the big play.
As time has passed I've begun to appreciate this card for other reasons. While the 1990 Upper Deck design was a bit of a letdown after the pleasing shock of 1989, the design is minimal and pleasing in this instance. In no way does it distract from the photo, which is clearly the star here. I also love the old school baseball feel of this photo. OK, I realize my definition of old school in this instance is only a look back about 20 years ago, but still. Bo's wearing real stirrups. And even better, he's rocking the flip up shades, which have managed to keep Bo's hat from flying off his dome while at full sprint. Just a piece of baseball card art.
Even the back of this card is pleasing to me.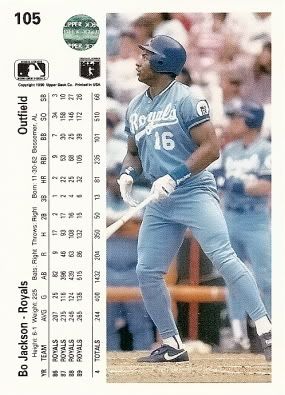 1. You have to love the all blue Royals road unis.
2. The picture is taken at the Big A, always a plus for a Halo fan.
3. The biceps of doom are on full display.
4. Short career=full stats up through 1989.
OK, I'll stop belaboring my point. I love this card. Truly an example of baseball card perfection.
Go Halos!