I've been in a bit of a funk lately, but nothing pulls you out of a funk quite like some free cards. These were courtesy of Jeffrey over at
Card Junkie
. First Jeff sent along some Angels cards as a thank you and then followed that up with a couple of cards from off of my
2009 Topps Series 1 Wantlist
. These 2 cards put me just 8 away from finally putting to sleep Series 1.
First up, the 2009 Topps cards, both of the horizontal persuasion.
I'm thinking a more creative photo might have been in order for a card celebrating an MVP.
On the other hand, the Furcal cards is just plain sweet. Excellent use of the horizontal.
On to the Halos. Jeff sent a number of cards from various sets, so I'll hit you with a couple of highlights.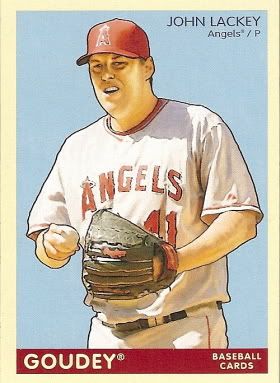 My first and maybe only 2009 Goudey card. The reviews have been poor and my budget is tight. Not a good combo for the boys at Upper Deck seeing my dollars. I've been itching to open some packs and Goudey has been at the Target for a couple of weeks, but even so I haven't been able to pull the trigger. Not a good sign.
I'm not the biggest 88 Fleer fan, but I like a lot about this card. The pure 80s spectators are nice, combined with the dirty uniform, real stirrups, the old orange railing that made any Anaheim Stadium background card instantly recognizable and the Schofield batting stance which looks to me like a guy who's a bit scared of the ball being thrown in his direction.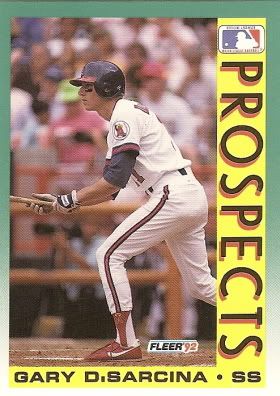 DiSar the prospect.
Polonia the superstar.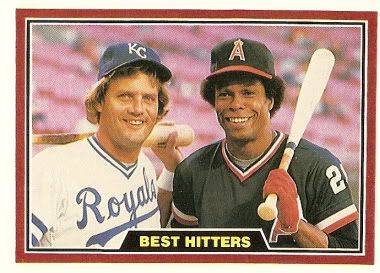 The highlight of all the cards. I have no idea what set this came from. It's numbered 537, so apparently there are a number of this set floating around, but outside of that it has no identification. Even the back only has a 3 paragraph write-up about the "Best Hitters in Baseball" and nothing else. Odd and wonderful.
Thanks for the cards Jeff, I really appreciate them.
Go Halos!