I've written more than a few times about my baseball experiences as a child and how growing up in Texas made me a fan of the Cubs on WGN, and the Angels and Dodgers because we would visit my grandpa every summer and he would take me to games of those two teams. Once we finally moved to California, I lived close to Anaheim and spent many more nights at the Big A watching the Halos than I did at Chavez Ravine watching the Dodgers. Even so, I've still always rooted for the Dodgers.
Most people probably think I'm nuts to root for two teams from the same area, but it's always been natural to me. And as I was growing up, there was no interleague play, so the only chance I had of my teams colliding and my loyalties being tested was a possible World Series showdown. If you watched the Angels in the 90s you'll realize why that was of little concern to me. So while my Halo fandom has continually risen and made me a huge supporter of the Halos, I'm still a Dodger fan deep down as well. So hopefully I'll do the Dodger fans out there some justice with this list spanning the last 25 years or so.
1. Ramon Martinez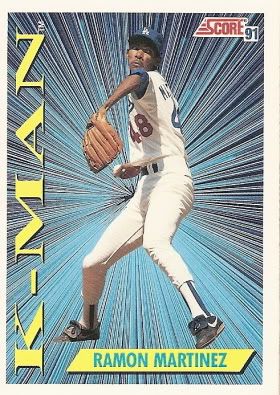 1990 was the year my family finally made the move out to California and that just happens to coincide with the year Ramon Martinez pitched like a maniac. 20 wins, an ERA under 3, 12 complete games, over 220 strikeouts, and a 2nd place Cy Young finish. He was a generous 165 pounds and I was enthralled by his every pitch that season. I collected every card I could find with his name and image on it and could not get enough of the skinny phenom from the Dominican Republic. He went on to have some up and down years for the Dodgers, but I'll always remember him as the pitcher from the summer of '90.
2. Lenny Harris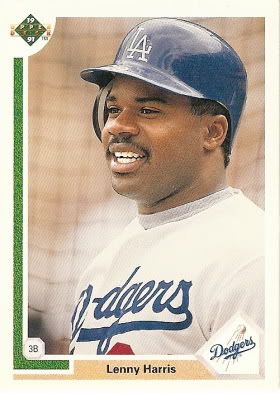 Chalk this one up to the ghosts of 1990 as well, because Lenny Harris won me over that summer as well. I've already chronicled my love for the chubby ballplayers and Harris was certainly that. He always came across as a very likable underdog to me and no matter where he moved on to in his career, I always found myself rooting for him to succeed. Being the career leader in pinch hits is in some ways a dubious record to hold, but somehow it fits Harris perfectly. He was a guy who did whatever the team asked and did so without complaint. I've never been a huge autograph seeker at baseball games, but I still remember Harris being the first Dodger autograph I ever received at the stadium and also my last.

3. Raul Mondesi
During the run of Dodger rookie of the year winners in the '90s, Raul was undoubtedly my guy. I liked the others, but there was something different about Mondesi. As baseball fans it's easy to be attracted to the great power hitters or strikeout pitchers, but sometimes it's a rarely seen skill that captures our attention. If you've ever witnessed Raul Mondesi play the outfield then you probably remember his arm. Mondesi has an absolute canon in right field and I can vividly remember rooting for opposing players to get hits to right field in hopes that it would lead to Raul uncorking one to cut down a runner advancing. Mondesi would go on to get a reputation as a bit of a cranky guy, but I always appreciated the huge turns he would take at first base on every hit and the effort he showed in the outfield.
4. Matt Kemp
It was difficult to not make this a list of solely late '80s, mid '90s players, but I had to include my favorite current Dodger. As a Dodger fan, it's hard not to be giddy about the young core of this team. Talent on the infield, in the outfield and on the mound is abundant, but for me Matt Kemp stands above them all. Matt Kemp just looks like a baseball player, whether it's roaming center field or up to bat, he has a fluid look about himself. It's hard to explain Matt Kemp, you need to watch him on a regular basis to really appreciate him. His triple to deep center a couple of weeks ago against the Giants in the 9th inning almost seemed effortless and just summed up his skills to me. I'm looking forward to how the young guys progress over the years, but more than anything I can't wait to see how Kemp's career unfolds.
Honorable Mentions:
Tommy Lasorda
If you like the Dodgers, you love Tommy. Those of you who don't like the Dodgers probably loathe Tommy. His constant espousing about his love for baseball can probably be tiresome at times, but I can't get enough of the guy.
The young guys (Martin, Ethier, Loney)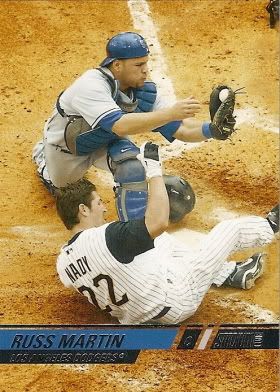 As a pure a baseball player as there is in the league. You can't help but like the guy if you watch him.
Of all the young guys, Ethier is probably the best pure hitter.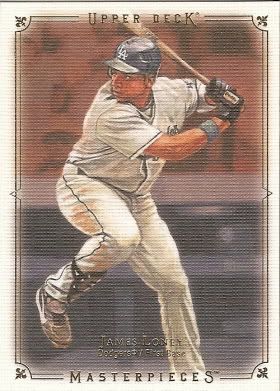 I was skeptical of Loney at first, but he has won me over in a big way.
Orel Hershiser
1988. Nothing more need be said.
Kirk Gibson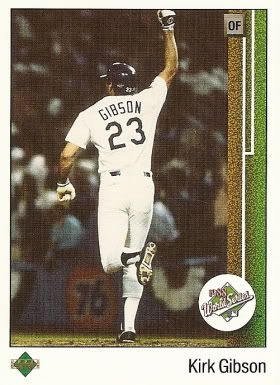 1988. Nothing more need be said.
Mike Piazza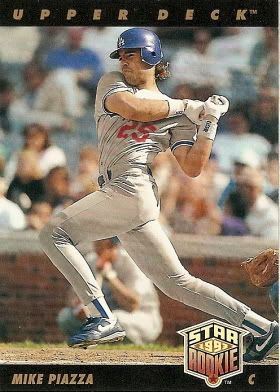 I was stunned when Piazza was traded and although most people today probably think of him as a Met, it never quite seemed right to me.
Eric Karros
EK began the run of Dodgers winning the rookie of the year award. Karros was consistently a really strong run producer for the Dodgers and in some ways became the face of Dodgers especially after the departure of Piazza.
Mike Scioscia
A gritty catcher for the Dodgers. A World Series winning manager for the Angels. The best of both worlds.
Mike Sharperson
Times were lean for the Dodgers in 1992. Need evidence? Sharperson was the lone Dodger representative on the All-Star team.
Manny Ramirez
The suspension has put a damper on my Manny enthusiasm, but his presence last year in LA was huge. I'll never be able to view Manny in the same way and that makes me sad, but not outraged. I've sort of become numb to this stuff.
Vin Scully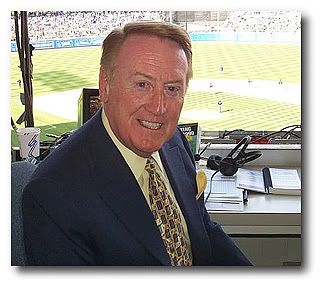 He's not a player, but he is far and away my favorite part of Dodgers baseball. I have spent more hours listening to Vin Scully talk in my lifetime than I have my own parents, all my teachers and my daughter. That's saying something since my daughter hasn't stopped talking once over the last 2 years.
There they are, the number 2 team in my heart. It's by no means a perfect list and I know I've left off quite a few, but in the end I think this represents the Dodgers as I've known them over the last couple of decades.
Next up, the team that inspired the blog.
Go Halos!