There are a few reasons why I have never gotten into prospecting and they're all very valid, but above all I don't prospect because I hate getting rid of my cards. Sure, I love to send off cards in trades and to collectors who have more need for them than me, but I don't like selling my cards on eBay, no matter how much money is to be made. I've sold a few cards here and there throughout the past couple of years, but for the most part I've only sold cards I had absolutely no interest in or that I had multiple copies of.
Prospecting scares the crap out of me. I barely have enough money to collect the stuff I really want, I sure as hell don't want to spend money on cards that may have absolutely no worth to me in the future. Sure, there are successes out there to be had and my love of baseball may even have given me a chance to be only slightly crappy at it, but in the end I'd hate it. I'm a hoarder, not a profiteer.
So why am I now the accidental prospector? Well, it all began about two years ago when I was searching for Ervin Santana cards. I love collecting anything with a Halo, but Ervin held a special place in my heart and I was really enjoying picking up his autographs on the cheap.
After some time of searching and purchasing, I came across a lot of 4 SPx autographs from 2005. The headliner on the lot was Ervin Santana, with 3 other cards thrown in. I wasn't all that interested in picking up the other cards, but if the price was right I figured a couple of other autographs in my collection wouldn't hurt me. I added the lot to my Watched list and waited for the auction to come to an end. After a few days the lot still sat at .99 and with little time remaining I put in my bid of 4 dollars. That was completely unnecessary. The auction ended at 99 cents and I was the proud owner of an Ervin Santana autograph and 3 other throw ins.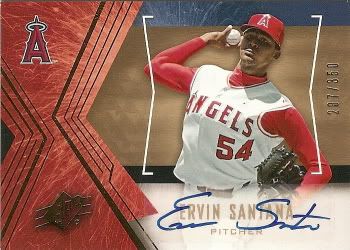 When the bubble mailer arrived I removed the 4 cards from an oversized toploader and quickly placed Ervin in his new home and slid the other three cards into some holders and onto a box of random autographs and relic cards.
So what else was there?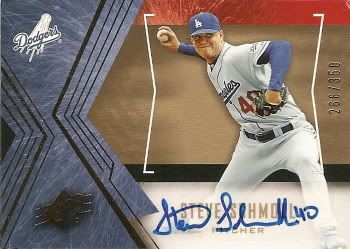 Steve Schmoll, lightly used Dodgers pitcher, out of the league since 2005.
Dan Johnson, former A's first baseman of the future, claimed off waivers by the Rays and now playing for the Yokohama BayStars.
So who was the 4th card that made this lot worth slightly more than the 99 cents I paid? Well, he just recently made the cover of Sports Illustrated where he was proclaimed as "The Best Pitcher in Baseball".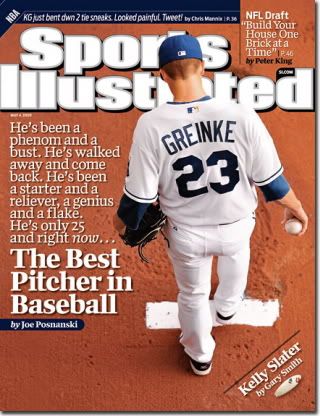 Yup, the man who has set baseball on fire in Kansas City, Zack Greinke.
As this season has progressed and Greinke has continued to put up ungodly numbers, there has been a voice in the back of my head saying, "Don't you have a Greinke auto somewhere?" So after a bit of searching and scouring, I came across the card that has turned me into a psuedo-prospector. I present to you, Zack Greinke, 2005 SPx autograph numbered to 150.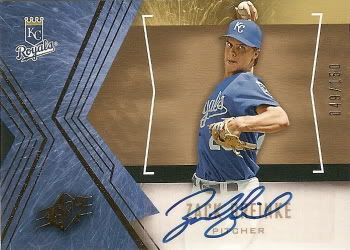 So obviously I threw the card right up on eBay so I can wallow in my profits and feel like a baseball card genius right? Well, not so much. See, it all goes back to that pesky way I collect. I look at the card and suddenly it has a little more meaning to me. It's an autograph of one of the best young pitchers today and it has a story of interest behind it. Sure, I should probably sell it now, pick up 10 or 15 bucks and move on, but I just don't have the stomach for it. Instead, Zack will get packed up a little tighter, he'll be moved to a box of more prominence and I'll sleep well knowing I have an autograph of a bright young star. And if he eventually blows out an elbow or some other ailment brings him down, I'll be just as content with my decision.
So I guess I learned today that collecting really is about the journey for me. I like the stories behind certain cards and the fact that the monetary side of this hobby is of so little importance to me. Now I just hope that Zack doesn't destroy my Halos on Saturday.
Go Halos!