Thanks to the efforts of the wife tonight, I was able to rip into some series 2 packs and finally quench the desire for some new cards. Outside of series 1 Topps and UD, I haven't bought packs of any new cards this year. A combination of budget and just dislike for much of what's out there has led to a fairly dry year. Thankfully, the venture into blogging has provided a number of new Angels cards which have more than filled in the gaps.
The wife was able to snag 8 packs at Target, so I figured I'd show off the Halos and Legends cards today and hopefully the rest of the highlights tomorrow.
The HALOS!
Sure, it's just a ToppsTown card, but at least it's a TT card of Vlad wielding imposing wooden stick of doom.
For once all of the unnecessary signage and clutter in dugouts today has paid off by revealing that this picture was taken in Cleveland. OK, so it's not much of a payoff, but I'm always a little bit curious of where the card pictures originated from.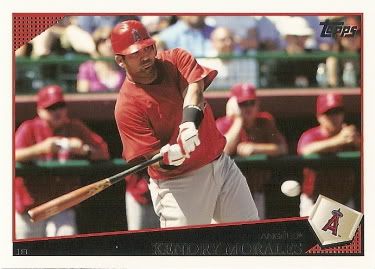 I like the horizontal and feel like it's one of the best parts about this set, but couldn't Topps have found a picture from the regular season for Kendry. I realize cards like this happen for players new to the team like Abreu (below), but K-Mo deserved better.
Outside of Torii Hunter, Abreu has pretty much been the offensive highlight for the Angels this season. With his zero home runs, that should tell you a little something about the Halo offense. Even without the power, this signing has been really important for the Angels this season. Hopefully a healthy Vlad can start driving him in upon his return.
Love the angle that this photo was taken at. Matthews will never be a beloved Angel, but at least he has a card that I will look back on fondly on 55 million dollars later.
Vladdy the Legend. I hadn't looked through any of the checklists for Series 2 or glanced at many blogs lately, so this was a very cool surprise. It's easy to get frustrated watching Vlad swing wildly at balls in the dirt or over his head, but it's also nice to open a pack of cards and see one of the players from your team on a card designated for legends.
Speaking of legends...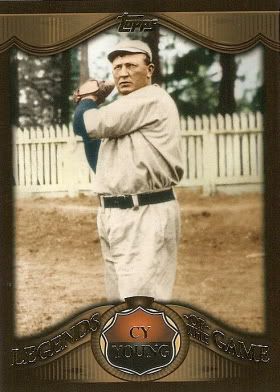 Cy Young. Apparently this guy was good enough to have an award named after him.
Mel Ott. 511 home runs for a guy who stood 5'9" and weighed 170 pounds. Obviously it was a different game in Ott's era, but it's fascinating to look back at these accomplishments.
Campy. 10 seasons, 3 MVP awards. Campy was a man of efficiency.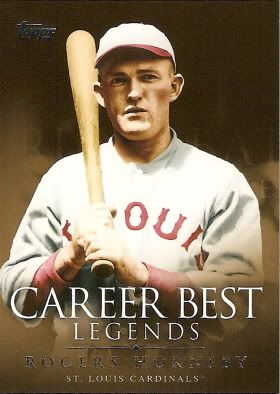 Rogers Hornsby. The Career Best cards are interesting in that they show you the best a player did in each offensive category at some point in their career. The numbers on the back of the Hornsby card are incredible. A season with a .424 average, 250 hits, an OPS of 1.245, 42 homers, 152 RBIs, 47 doubles, 20 triples, 156 runs scored...and it goes on. Incredible.
And finally, the legendary SP
I really enjoy these SPs and wish I had the money to chase after them. While the legends cards in general are a highlight to me in 2009 Topps, these cards are even more interesting in that they just blend in with the set. My eyes did a double take when I realized this was a Jim Palmer card and unlike the Mickey Mantle cards of past years, these cards look natural and like they should be part of the set. This one really has me tempted to go after more.
That does it for part 1 of the 8 pack break. Some nice Halos and some even cooler Legends of the Game. While the photography for '09 has been lauded often, it's the Legends that put this set over the top for me. After opening packs I tend to spend another half hour on the internet looking up information on the players and reading various writeups. These cards make me feel better about baseball and that's always a good thing.
Part 2 tomorrow...hopefully.
Go Halos!