It started with a challenge from Bo at
Baseball Cards Come to Life!
and it ended with Bo receiving a mess of Yankees from me and yours truly receiving a gaggle of Halos from Bo, plus a couple of much coveted Yankee cards.
While getting Angel cards is the highlight of most any package I open, this one was slightly different. I loved all of the various Halos, but what I most coveted were Several Yankee cards and an A's card. The horror, I know. But there is a reason for such madness and his name is Luis Polonia.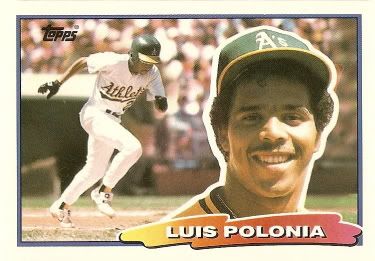 The lone Oakland card in the bunch, but it's a beauty. They're too large for most holders, they mess up my stacks and organization, but these cards are absolutely irresistible, especially when they are accompanied by the visage of Polonia.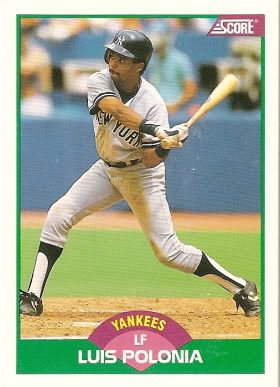 The beginning of the Yankee cards. These card look eerily similar to...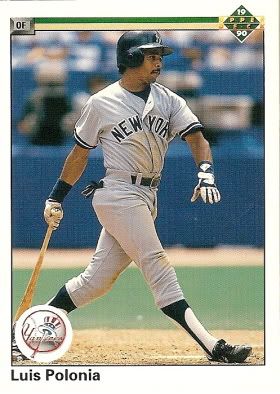 This card. Same uniform with dirt stains, same stadium, same stache, different angle.
The backs of these cards are odd as above the stats, one stat is written out in gold. For Luis, that stat is .696 Stolen Base Pct. Uhhh...is that even good?
I've never liked the shrunken down photo in the corner of these cards. A big step down from 93 UD.
Great photo on front, great stat on back. "Went hitless in consecutive starts only once all season". It seems a bit innocuous at first, but it sums up Luis...relentless!
Bonus Yankee card featuring Halo Luis. Love the cameo card!
Now on to the Halos. It would take me three weeks to show off all of the Halos that Bo sent along, so here is a sampling.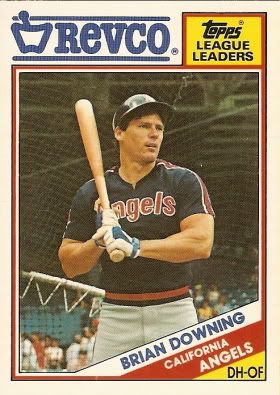 Brian Downing Revco card. One has to wonder if perhaps Revco was supplying my boy Downing with some muscle juice. The man is a beast.
Not exactly the photo you're hoping shows up on your baseball card.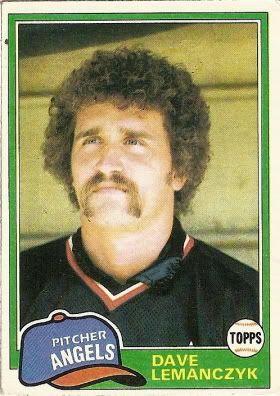 Only 21 games as an Angel, but apparently this guy made an All-Star game with the Jays.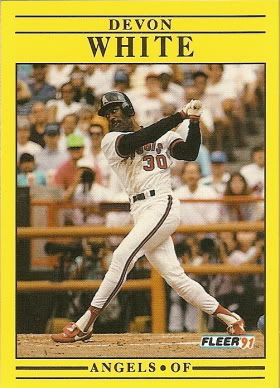 Devo's eyes suggest that he has hit a dribbler about 6 feet in front of the plate.
Never produced in the way Angels fans had hoped he would, but I still have a soft spot for the guy.
See facial expression.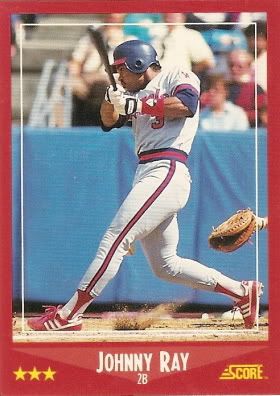 First, I love 88 Score even though it doesn't really have any of the elements I normally love in a card design, but that can be discussed later at more length. Best part of this card is how the swing and photo look so great until you look between Johnny's legs and notice the plume of dirt that is the result of smnashing the ball directly south.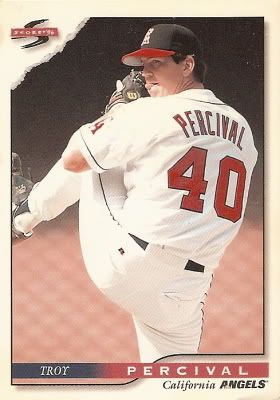 F U Brian Fuentes. I miss you Percy. Sure K-Rod was great, but Percy and the tongue were legendary. The new guy just plain sucks. Of course the whole bullpen is atrocious, so he kinda fits in well.
Thank you Bo, for the Halos of course, but also for the addition of some Yankee cards featuring my homeboy Luis. You sir are a gentleman, even if the team you root for is pure evil. haha I keed, I keed.
Go Halos!