Thanks to the wife's excellent shopping skills, I was able to rip through some packs of 2009 Topps Series 2 and yesterday I looked mainly at the Halos and Legends. Today, it's everything else. And I figured with Terminator 4 out this weekend, we'd give a little shout out to Arnie and T(opps Series)2. It can't be merely a coincidence that T2 came out in 1991, the year that last saw Topps put out a set that focused on photography so much.
We'll start with the non-base.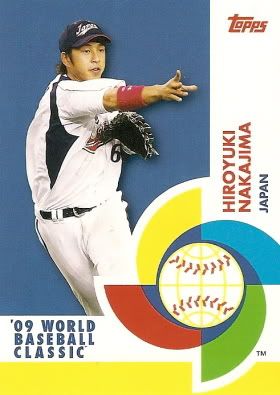 Easily the lowlight of the set for me. Not to get all xenophobic on you, but I really just don't want cards of players from the Japanese WBC team or Cuban WBC team or even the USA WBC team. I was over the WBC in February, I certainly don't need to be reminded of it now, especially since they haven't even sent me my WBC redemption from series 1. Isn't it enough that Topps put out a small set of these cards?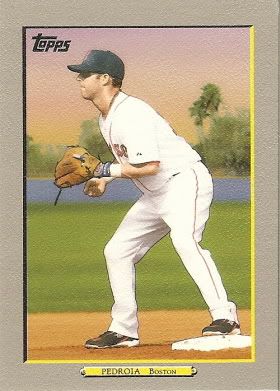 There's nothing I can add on to the Turkey Red discussion that hasn't already been bantered about on blogs far and wide. I like 'em, you like 'em, score one for Topps.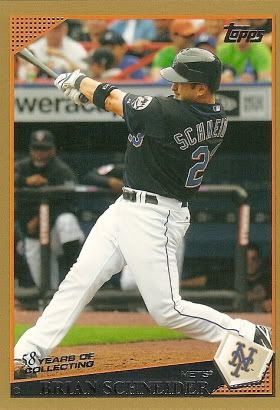 8 packs got me 2 gold cards. Schneider and Upton. The Upton being a pretty unique and odd photo, but one that I like.
I'm not sure how I feel about golds. When I open a pack and see the gold border I get a little excited and feel like I've pulled something semi-rare, but that's where the excitement ends. I tend to stick these cards in the back of the binder or send them off in trades. Ehh.
On to the base.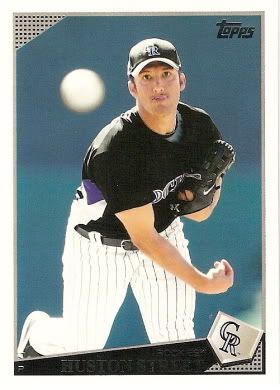 You gotta love cards that have the blur of the pitch coming right at you. The Aceves card gets a bonus for horizontal positioning, while the Street also comes in with a bonus due to the odd hand placement on the follow through.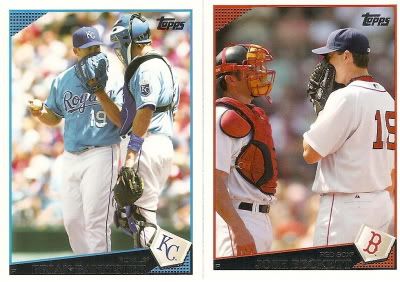 Could there be a more boring shot of a picture than one where he's covering his face while chatting with the catcher? Well, yeah there probably are many more boring, but this is certainly up there. Perhaps just one of these cards would suffice. Although they are slightly on the boring side, they also convey a little bit of baseball strategy and gamesmanship, which is not lost on me.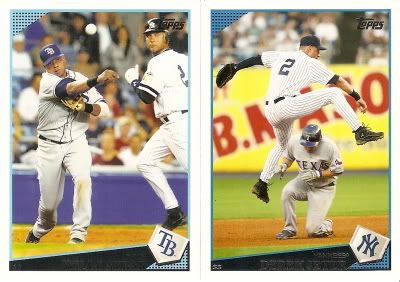 Two rather odd cards featuring Jeter. In one he's awkwardly leaping over a Ranger with the base no where in sight. In the other he looks almost photoshopped into the card. Combine the blank stare with his size seeming disproportionate and you've got a winner here.
Next up are two combo cards that seemingly are using the wrong combo of players.
Wouldn't Chase Utley have been a slightly more appropriate choice on a card about Philadelphia bombers? I like Jimmy Rollins, but 11 home runs is not exactly the stuff of a bomber.
Chief Lefties would seem a title appropriate to left handed pitchers that play for the Indians, so Sowers and Laffey both fit the title, but I just get the feeling that maybe Cliff Lee should have been featured here. Sure his 2009 is not following his 2008 too accurately, but the guy did when the Cy Young in '08, maybe Topps could have thrown him a bone here. Even so, the card is entirely too reminiscent on the Ray Guns card from Series 1 featuring David Price and Scott Kazmir.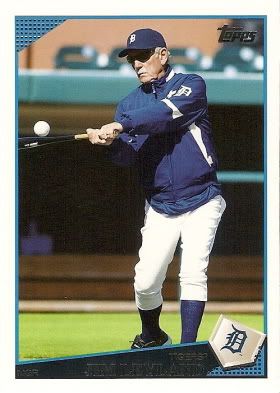 Normally I loathe getting manager cards in my packs, but this may be one of my favorites. While most manager cards feature a shot similar to the one of Mike Scioscia that I posted yesterday, this card actually has a managerial action shot! Nothing beats the 64 year old manager out hitting ground balls before the game.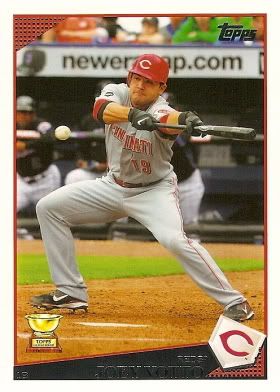 Votto seems to be a bit more of an emerging slugger than a guy bunting for base hits, but hey we need some diversity in our collections. Votto collectors will come to appreciate this card after seeing 10 years of photos showing yet another line drive swing.
Juan Pierre does not stand a chance on this play at second, but you've still gotta appreciate the effort and the helmet flying off to reveal the hat underneath. It's like we're back in little league.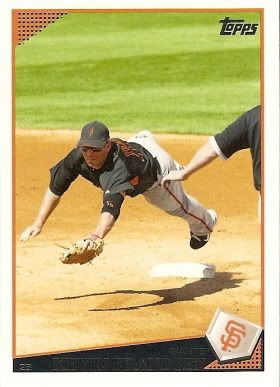 Spring training effort, the hallmark of the on the fence youngster.
Being a third baseman all through my baseball career, I'm always a fan of cards that show third basemen making the difficult plays that are only made from that spot on the diamond.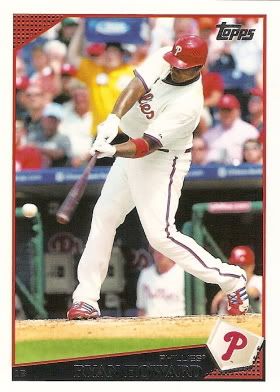 Ryan Howard is definitely a prodigious slugger, but is there any doubt that he missed this pitch by a good two feet?
The Nelson Cruz card is on its way to becoming one of the "iconic" cards of this set. I'm pretty sure when we look back at this set and reminisce like we do about the 1991 set, this card will be the equivalent of the Benito Santiago looking up for the foul ball or the Clemens leaning against the Monster. Unfortunately, this card still leaves me wondering what Nelson Cruz looks like.
Thus ends the look at 8 packs of T2. I was sold after series 1 and series 2 did little to disappoint. Sure the WBC cards are pointless to me and will likely never find their way out of the commons box, but the rest is right on. I love the Legends, both regular and SP, the Turkey Red was well done and of course the photography was a huge step up. Now I'll just have to wait for my Jumbo box to come so I can work on completing the set and of course pick up my autograph of whichever Pirates player they decided to sneak onto the checklist.
Go Halos!