With only a couple of days to go until I head off for a family vacation, I've got to kick the lazy habit for at least a few days and get some writing done. What better to inspire me than the kindness of other bloggers. Over the last few days I have been the very fortunate recipient of some great cards.
Today's cards come from
Rod of Padrographs
. This is the second package that Rod has sent me and as always the card choices are well thought out. Rod is extremely generous and his packages are always filled with fun. This one included a postcard that scared the crap out of my daughter and a book survey/questionnaire/autograph holder that I completely misread and thus flubbed. My students would be thrilled. So here's a small sampling of what the man sent along.
First up from the faithful Friar fan, a few 2009 Upper Deck cards. I chose these two to show off, because they both deserve a little love.
Mike Napoli
Naps is having a great offensive season, splitting time as the DH and catcher. You gotta love Napoli because he rarely has his jersey buttoned above the first three buttons and just looks like an 80s power hitter. Love his offense, wish some of it would rub off on Jeff Mathis, he of the better defense, but toothpick bat.
Kendry Morales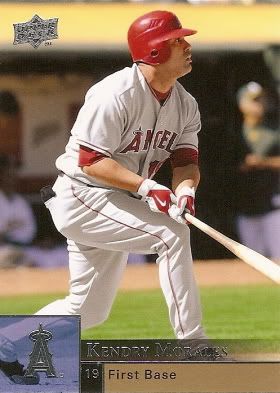 Much of the Haloverse was up in arms when Mark Teixeira bolted for the cash. I had a feeling from day one that he would be headed to the highest bidder, so even last August I was thinking about our future replacements. I'm a big Kendry Morales fan. Kendry hasn't hit for a great average this year, although he's hovering around .280. What's been nice is that his power is definitely coming around and he's on pace to hit somewhere in the high 20s. Not bad for a guy getting his first real run in the majors. And while few if any first baggers pick it like Tex, he's been pretty steady in the field.
Next up, a current Halo, making his way back from injury.
Vladdy.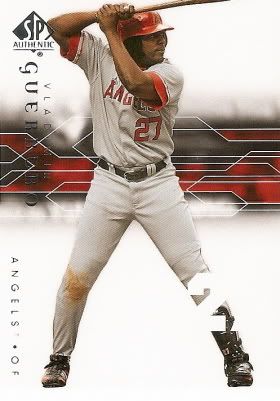 Vlad's struggles the last couple of years can be frustrating, but when he's on, there's very few players that are easier to root for. When Vlad finally busted out of a slump last week, hitting his second home run of the season, he entered the dugout to no fanfare. Instead, every player and coach was sitting quietly on the bench. Vlad proceeded to head right down the aisle towards the clubhouse, cracking all of his teammates up as they chased after him. He returned to smiles, backslaps and camaraderie. Gotta love baseball.
From the current right field sensation, to the old right field sensation.
Timmy Salmon.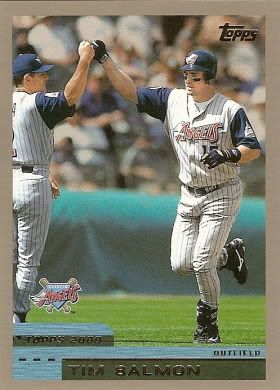 I never get tired of receiving Salmon cards in trades, etc. Salmon became the biggest of Angel stars during a time when I had quit collecting, so I'm seriously deficient in the cardboard of Mr. Salmon. For Angel fans, Salmon could do no wrong and it's just enjoyable to have a player in your team's history who never played for anyone else and never brought any kind of shame or shadiness to the team.
Going back a little further, just an 18-time all-star, no biggie.
Rod Carew.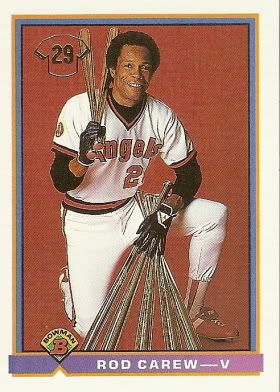 1. This photo is just perfect for the card.
2. All of Rod's career stats are on the back. Love it.
Now, it's not a package from Rod if it doesn't include some Padres, but they do serve a purpose.
Mike Scioscia
When looking at Scioscia's career, it's easy to remember his days as a gritty catcher with the Dodgers, or as the World Series winning manager of the Angels, but it's about time Mike gets some love for his time with the Pads. Well, maybe not. The photo on this card is one of the few featuring Mike during his Padre days, as he tore his rotator cuff in spring training and never played with the Pads.
And of course, the highlight of any Rod package for me are the Bips!
Shiny Bip.
What's shinier than this card? Only the infamous Bip smile. You gotta love this guy.
Tiny Bip.
On the right, regular sized Bip. On the left, tiny 1991 Cracker Jack Bip. This card is ridiculously small and is without a doubt in my top 5 favorite Bip cards of all-time.
Autographed Bip.
Just freaking sweet. Any cardboard featuring Bip is awesome, but a piece signed and touched by the man himself…LOVE IT!
Thanks a ton Rod. This package came out of nowhere and I'm thrilled to add all the cards to my collection. While I'm somewhat hard on the Pads, I do appreciate their shutting down the Rangers twice this weekend and helping my Halos get back into first. I guess the Pads do have a few redeeming aspects.
Go Halos!