After
yesterday's decisive victory
by Frank Tanana, we're back with three slightly tougher to judge battles. Let's get right to the action!
First up, we have Dave Chalk, a 170 pound shortstop out of Del Rio, Texas.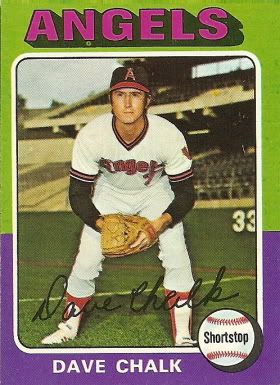 Facing off against Dave, we have catcher Tom Egan, straight outta the city of Angels.
These two cards feature players at different points in their careers, as 1975 would be the last season of Tom Egan's career, while Dave Chalk was entering the 3rd year of a 9 year career. 2 all-star appearances as a Halo gives Chalk the early lead in this one.
Egan however is able to counter with some seriously sweet 70's sideburns, made all the more impressive that he was entering his 10th MLB season.
Chalk gets the advantage on card color combination and another added boost by having the stadium in the background.
In the end this one was tight, but Dave Chalk, sans sideburns, is able to pull out a slight victory based on his success as an Angel and relative youth at the time this card was produced.
Next up, we have a battle of right handed hurlers from different countries. Yup, international battle!!
Representing the good ol' U.S. of A. Dick Lange.
And supported by his brothers down Mexico way, we have Horacio Pina.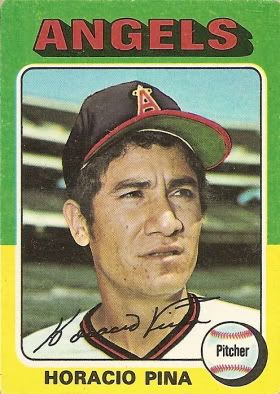 It's clear from their photos that Dick Lange is ready for the matchup, while Horacio seems a bit confused by it all and perhaps annoyed by the close proximity of his photographer.
Lange played in parts of 4 seasons, all with the Angels and all pretty unimpressive. Pina on the other hand was journeyman, not just coming from Mexico, but playing for 6 different teams, pitching only 11 games for the Halos, all in 1974.
My instincts are telling me to give this one to the lifetime Halo, Lange, but then I flipped the cards over. The factoids at the bottom of the card tell me that Lange had his first complete game victory against the White Sox on 9/10/73...yawn. We learn some fascinating info on the back of Pina's card, however. "Horacio hurled in 3 leagues during 1967 and totalled (Topps spelling) 31 victories, 18 defeats in 414 innings and 67 games." 414 innings! This man was on a mission to play baseball! I can't pass up that tenacity and while Horacio's photo is one of confusion, maybe it's just the look of a man who doesn't have time for photo shoots, he needs to get on a mound ASAP.
Congrats Horacio, you earned it.
Our final matchup should be a doozy.
First up, a man who made his biggest impact as a Yankee, Mickey Rivers.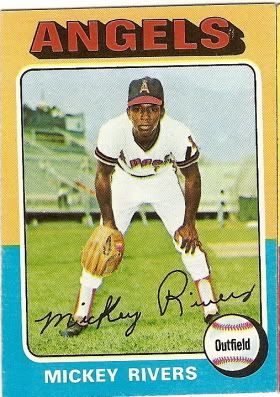 His opponent, had his greatest season in 1975, Denny Doyle.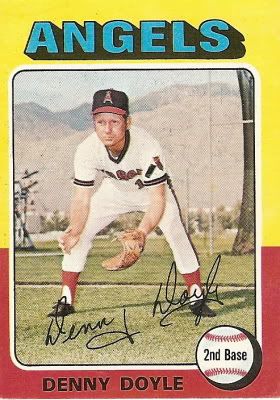 2 cards featuring very similar poses and unfortunately 2 guys who had their greatest success outside of the Big A. After being traded to the Yankees in 1976, Mickey finished 3rd in the MVP voting behind Thurman Munson and George Brett. Doyle on the other hand was traded to the Red Sox for cash and a player to be named, and in 1975 finished 23rd in the MVP, not as impressive as Rivers, but still a decent effort.
As for their Halo careers, Rivers played in parts of 6 seasons with the Angels, leading the league in triples both of his final two seasons in Southern California. Doyle, played in just 155, mostly uninspired games for the Halos, with no notable achievements.
Rivers was clearly the superior player and Bill James ranked him as the 59th best center fielder of all-time, not too shabby. Doyle was blessed with the perfect baseball name for a 70's second bagger, but that's about where his legacy dies. Denny does stage a slight comeback with his card back trivia that informs us he has twin brothers playing in the minors, but it's just not enough. Had I been 10 years old in 1975 and pulled both of these cards, Rivers would have been the one getting pinned to my wall, while Doyle would go in the bike spokes. Advantage Rivers, with a TKO in 3rd round.
So there we have it, 3 more winners that are moving on in the Battle of the Angels.
Congratulations to Dave Chalk, Horacio Pina and Mickey Rivers, you'll need to bring your A game in the next round.
Go Halos!