Yes, the time has finally come. You've waited all of June for this moment to finally arrive, the 1975 Topps Angels Battle Royale. The anticipation has been building as the winners of the preliminary bouts have been talking trash and making their threats. I'd like to believe that as former teammates, these guys would play nice, but this is a battle for 1975 Supremacy and when it comes to '75 Topps, friendships mean nothing.
We're doing this one, WWE Royal Rumble style, one combatant enters the ring every couple of minutes.
Let the mayhem ensue.
As the lights dim here at the HaloDome, you can feel the tension and the buzz in the air. Rumors abound to who may show up at this event. Sources tell us a former Angel may be back to settle a grudge.
As we get underway, our first combatant comes down to the ring, accompanied by the tune of "La Cucaracha"...it's Horacio Pina!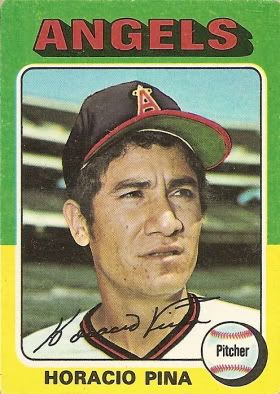 Horacio may not look like much, but he's a scrappy competitor, known for his endurance, witness his 414 innings pitched in 1967 for various teams. It's tough being first up, but Horacio may just be the guy to pull this off.
Following Horacio into the ring as entrant #2, accompanied by the theme to The Bad News Bears, no it's not Engelberg and the crew, it's the 1975 Team Card!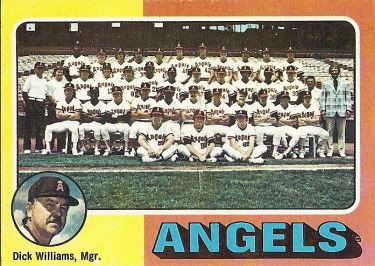 Oh poor Horacio. This hardly seems fair. 35 men in uniform, accompanied by the man in the plaid blazer, all staring down Horacio who is cowering in the corner. His pleadings of "por favor, no!" have left the team a bit puzzled and they seem to be reticent to attack. As the man in the blue blazer makes his way over, Horacio drops to his knees and begs...but what's this? Out of nowhere Horacio with the lowblow and this battle royale is officially on.
The man in the blazer is down, but the entire team is now descending on Horacio, including Horacio's doppelganger, who oddly enough is part of the team card. This is getting ugly. Plaid blazer man is back on his feet and it looks like he'll do the dirty deed, tossing a lifeless Horacio over the top rope, ending his bid for stardom.
As the team celebrates, the music hits and our next entrant is on his way. The sounds of "Livin' La Vida Loca" can only mean one thing, Winston Llenas is slowly making his way to the ring.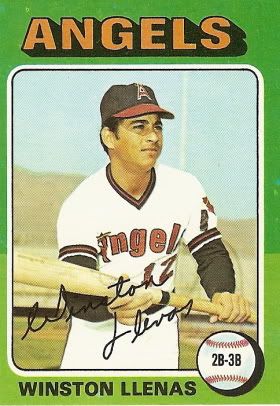 Needless to say, Winston is wary about making his way up into the fray. I think I see what he's doing, a masterful stroke of strategy. He's stalling in hopes of the next competitor making his way down to lend help. Sure it's not the most courageous move, but it's smart, and that's what you need to survive this war.
As Winston drops to one knee to tie his shoes, the crowd is becoming restless, but the seconds continue to tick off. It looks like he may just pull this off, despite the pleadings from the referee.
As the clock hits zero, the sounds of LL Cool J's "Mama Said Knock You Out" start to blare which means Big Bobby Heise and his intense stare are about to hit the ring.
Winston couldn't have hoped for a better fighter to team up with. Bobby is known for that icy stare and that intensity will be needed for this fight. Winston is trying to convince Bobby to hang back and wait with him for reinforcements, but Bobby will have none of that. Both men hit the ring and this promises to get ugly quick.
You gotta love the determination of Bobby Heise, but this isn't going well. Both men are being pummeled in the corner and you can't help but think that barring a miracle, the '75 Team card is going to be unstoppable. Before the two men even have a chance for more help, the are unceremoniously tossed from the ring and we're left waiting for our next competitor.
Ahhh, the soothing sound of the Carpenters "Close to You". If birds are suddenly appearing, that means the goofy innocence of John Doherty can't be far behind.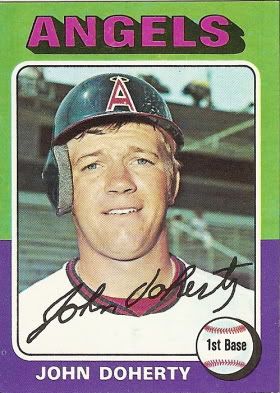 There he is, kissing babies and shaking hands, John Doherty. The fans love this young man and for good reason, he's always got a smile and loves the game.
There seems to be some sort of disturbance in the crowd...my GOD! someone's hopped the railing...could that be? NO! It's Mark Teixeira!
He has attacked John Doherty from behind. We knew he was a jerk, but this is going a step too far. Mark seems to be screaming something about being the only true Halo first baseman. Obviously he's never heard of Wally Joyner. As Teixeira pummels Doherty the '75 team seems to be getting upset...wait, what's this? The team card is emilinating itself from the battle royale in order to help out Doherty. Gotta love that camaraderie.
The team descends on Tex and in just a few seconds they are walking away. Dear God, is that...is that...Wow! I think Teixeira might be...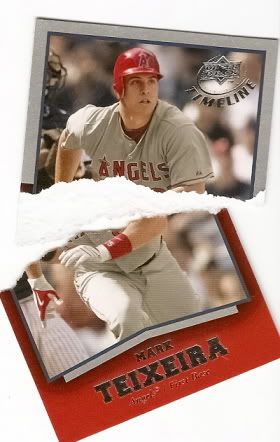 All I can say is wow. He certainly deserved this thrashing. Let's go in for a closer look.
Well, I can't say this is a surprise. Apparently, Mark Teixeira doesn't bleed blood like the rest of us, instead money oozes out of this greedy bastard. Needless to say this is now the greatest Battle Royale in Angels history.
John Doherty makes his way over to spit on Tex and then drags his body into the ring. James Brown's "I Feel Good" has hit the speakers and you know that means it's Mickey Rivers time.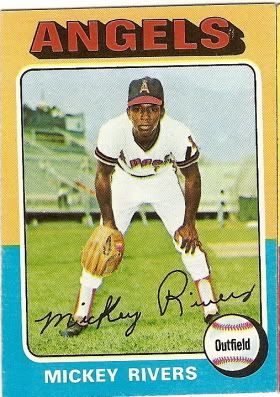 Mickey is an early favorite for this fight and with the team card now out of the way, this is anyone's ballgame. Mickey strides into the ring as Doherty attempts to pull himself to his feet. He was battered by the cowardly attack from Teixeira, but he's still got heart. Mickey has yet to pounce, seemingly a show of respect for the beaten Doherty. Mickey instead is choosing to play to the crowd and the fans are loving it.
As "Rock You Like a Hurricane" hits the eardrums, Andy Hassler makes his way down to the battle.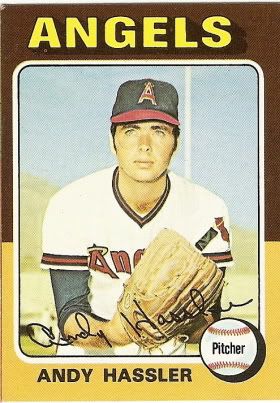 Mickey Rivers appears slightly annoyed by the spotlight being stolen from him and now looks to be all business. Doherty continues to slump in the corner as Hassler and Rivers lock horns. Hassler's southpaw stance seems to have Rivers confused briefly, but Mickey's speed appears to be too much for Hassler. A fake left, followed by a nifty dropkick has Rivers clearly in control. He glances over at Doherty and just smirks. Hassler jumps onto Rivers' back, only to be tossed away like yesterday's trash.
As the theme song to "Underdog" hits the arena, we're about to be joined by Rudy Meoli.
Rudy is going with a stealth approach and sneaks into the ring alongside the still ailing Doherty. Rudy is well aware of his underdog status and appears to want no part of the Hassler/Rivers shenanigans. Rudy and Doherty seem to be plotting some sort of alliance, while Rivers continues to beat on Hassler. It appears Rivers has had his fun and yes, yes he is now tossing Andy Hassler out of the ring and out of this competition.
As Hassler hits the ground, Olivia Newton John can be heard and apparently, she wants to get physical, which means Dave Chalk is on the warpath.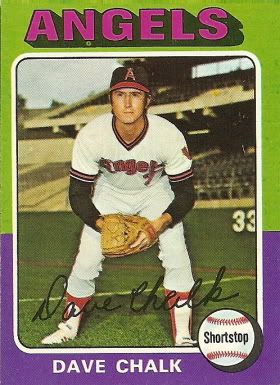 Chalk is darting into the ring and going right after Rivers, while Rudy and Doherty continue to sit out this action. Chalk means business, but Rivers is just too talented. A kick to the gut, a body slam here, a DDT there and Chalk is a beaten man. With much disdain, Mickey lifts the young shortstop and tosses him out, ending his brief run.
Rivers begins to finally turn his attention to the two hiding in the corner when the undeniable music of Bruce Bochte is heard.
Yes, the Doors classic "People Are Strange" accompanies perhaps the oddest of oddballs in this competition. Bruce refuses to conform for any man and that can be seen by his ring attire. Unlike our other combatants, Bruce has decided to make his way down in a tuxedo, far from the clothing one would expect in this venue. As he gets to the ring it's apparent that Bruce has no interest in fighting, instead he makes his way to the microphone.
"I Bruce Anton Bochte, will fight no man. Instead, I have chosen to dedicate myself to one mission. I will save the Mother Earth from humankind's destructive ways. Thank you for your support."
And with that, Bruce has left the building.
While Rivers is distracted by the message of Bochte, Doherty and Rudy attack. They're all elbows and kneecaps, but it seems to be working. Rivers already worn down by the multiple beatings he has given out, seems ready to be tossed. oooh, it looks like they're going to go with the ever popular, one guy kneels down behind the victim while the other guy pushes. Yes, they have pulled it off, and Rivers has tumbled over the top rope and onto the floor. He's furious, but put up a valiant effort.
As Rudy and Doherty exchange an awkward high 5 in the ring, the shrieking of Axl Rose can be heard. It's time to Welcome Frank Tanana to the Jungle!
Rudy and Doherty are coming up with strategy as the Golden Boy makes his way down to the action, carrying his Topps Rookie Cup in hand. The underdogs immediately rush Tanana and this fight is underway. Tanana is taking a quick beating, but he's back on top in moments. He's showing what has made him a star even early on in his career. This back and forth action is getting intense. The buzz around the arena howver is for who hasn't entered the fray yet. These fans know that with only 3 competitors left to enter the ring, Nolan Ryan still looms out there.
Make that two competitors left, as Europe's "Final Countdown" is playing and Morris Nettles is making his way down to this fight.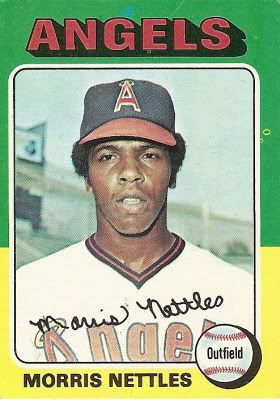 Morris goes right after Tanana, apparently there's some bad blood stemming from their days back in the minor leagues. Morris is relentlessly attacking Tanana as Rudy and Doherty go into their familiar position of cowering in the corner. Tanana looks like he may be on his way out. Morris lifts him over his head and is about to make the toss when Tanana begins to rake at his eyes. Morris drops Tanana and Frank scrambles for the corner. He reaches outside the ring to grab, yup I should have known it, Tanana is grabbing his rookie cup. As Morris Nettles staggers to his feet, still rubbing his eyes, Tanana smacks him in the back of the head and Morris is out cold.
The audience is stunned, their golden boy has turned on everyone and as Bob Marley's "Buffalo Soldier" begins to play, Leroy Stanton rushes down to the ring.
The crowd is in a frenzy as they wait for Leroy to hit the ring and exact revenge on Tanana. Leroy makes his way in and stares down Tanana, still clutching his trophy. Morris Nettles is trying to struggle to his feet and now Tanana may just be in trouble. The crowd is at a fever pitch and they want blood. Rudy and Doherty continue their strategy of staying out of the way. Leroy and Tanana are now face to face, the epic showdown is upon us. Wait, why is Tanana smiling? He's handing his rookie cup over to Leroy Stanton. I don't understand...Leroy whirls around and again lays out Morris Nettles. OH MY! Leroy Stanton and Frank Tanana are working together. With a simple toss, Morris Nettles is eliminated and the duo of Tanana and Stanton looks unbeatable.
The fans are in shock as two of their heroes have gone rogue and become cheaters. This just isn't right. Rudy and Doherty continue to cower as the chants of "Nooo-lan! Nooo-lan!" fill the arena.
Finally the music hits, Rage Against the Machine's "Bulls on Parade". Nolan Ryan enters the arena and the roof is being blown off of this place.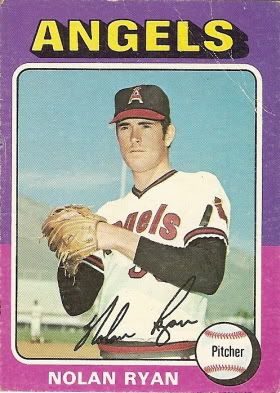 Ryan hasn't even entered the ring yet and both Rudy and Doherty have jumped over the top rope and eliminated themselves. Apparently wanting no part of the big Texan.
Tanana and Stanton look slightly worried, but they're still clutching the rookie cup, hoping to perhaps intimidate Nolan. As Ryan makes his way into the ring, Stanton slowly begins to back away. His confidence has been shattered by the mere sight of Nolan. As he backs up to the ropes, Morris Nettles comes out of nowhere to pull him out from behind. Sweet revenge for Morris.
Now we're down to two, Tanana with rookie cup and Nolan Ryan. Tanana charges and just like that Ryan has him in a headlock and proceeds to beat Tanana mercilessly. Blood is streaming down Tanana's face and it's evident he wants no more. He drops the rookie cup and with a simple flick of the wrist, Tanana goes sailing from the ring, making Nolan Ryan our 1975 Topps Battle of the Angels Champion!
This was a battle royale we will never forget Halo fans. Another Nolan Ryan victory, the backstabbing combo of Frank Tanana and Leroy Stanton, the scrappy yet cowardly actions of Rudy Meoli and John Doherty, the oddity that is Bruce Bochte and of course, the death of Mark Teixeira where we learned that yes indeed he does bleed money.
This is truly a historic day in Angels history and one that will forever live in infamy.
Go Halos!