The battle royale looms on the horizon, but first we must complete round 1 of the Battle of the Angels. We've had some spirited competition and today should be no different.
Matchup #1:
Skip Lockwood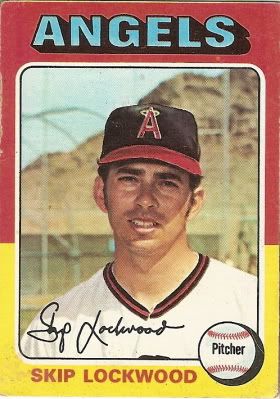 vs.
Bobby Heise
The goofy grin of Skip Lockwood stands in stark contrast to the steely eyes of Bobby Heise. Both players spent only 1974 with the Halos and neither was worth a crap as an Angel, so this one is all about the cards. Heise gets the advantage for look of determination and purple/green/pink combo. Skip's sole saving grace is that on the back of his card you learn why he goes by Skip. His real name is Claude Edward Lockwood. Sorry, Claude, it's just not gonna happen. Bobby and his stare take this one.
Matchup #2:
Ed Figueroa
vs.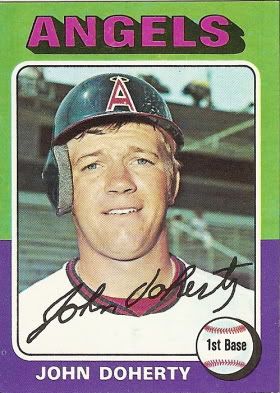 A battle of two beautiful purple/green/pinkers. Doherty was the 7th pick in the draft back in 1970, but unfortunately only played in '74 and '75 for the Halos and then it was career over. Figueroa was also a Halo for those two seasons only, but he went on to pitch well for the Yankees in the late '70s. While the Figueroa card has no major flaws and does include stats for 12 different years/teams in the minors, his best performances came as a Yankee and we can only tolerate that once per battle (Mickey Rivers). Combine Doherty's doe eyed innocence with his excessively foamed helmet and you've got a winner. Sure, he was a disappointment as a first round pick, but he has redeemed himself with an appearance in round 2.
In our next matchup we have the man himself...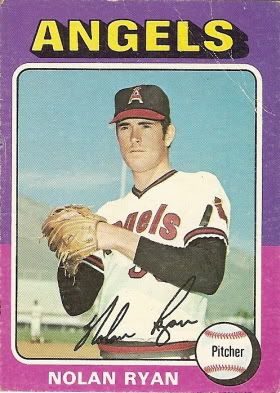 No one was willing to step in against Mr. Ryan so he gets an automatic birth in the battle royale.
Matchup #3:
Rudy Meoli
vs.
Charlie Sands
Do I really have to write much about these? Umm, Charlie was one of about 8 catchers on the Angels in 1975 and he wasn't too good. His card is brown. Rudy on the other hand is pictured hitting a mile high pop up to the catcher, which fits nicely with his career as a lifetime .212 hitter. I'm a sucker for a lovable loser. This may be Rudy's finest moment, congrats little fella.
Matchup #4:
Orlando Pena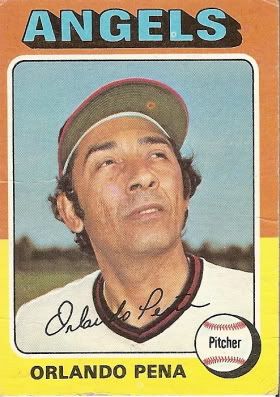 vs.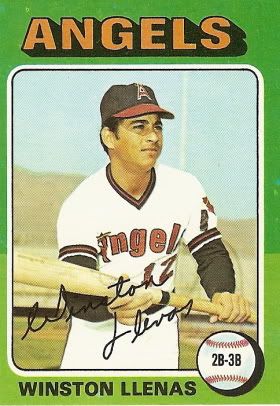 Orlando takes an early lead with his thoughtful look to the heavens, but Winston gets right back in the game with the always popular fake bunting pose. This one's gonna be tough. Orlando gave up 40 home runs one season for the Royals, but zero as an Angel in 11 games. Hmmm, not bad O-Dog. Winston will need to step up in this clutch situation, let's flip to the back of the card. "Winston's first major league Homer came at a crucial time. In pinch-hitting appearance, he walloped a 3-run Homer as Angels defeated White Sox, 3-1, 6-19-73. Good clutch hitter." This is huge for the lifetime Halo. 3 career home runs and one of them is a game winner. It gets no more clutch than that. Winston Enriquillo Llenas (Davilo) you're moving on!
The final first round matchup:
Morris Nettles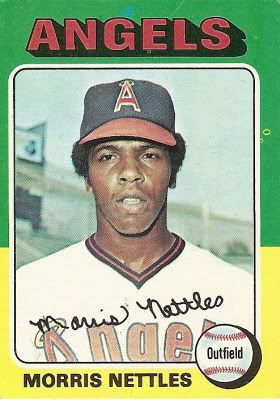 vs.
Chuck Dobson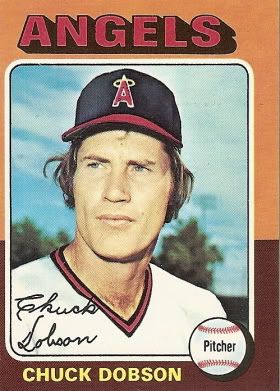 Let's just say the 1970 draft wasn't a shining moment for the Halos. Second round pick Morris Nettles spent just as much time in the majors as first round pick Mr. foam helmet, 2 seasons then out of the league. This one comes down to putting myself into the 1975 young collector mindset. Which would I have preferred, aging pitcher on his way out or young rookie who is described by the Topps copy writer as "One of Angels' fine rookies of 1974"? It's a no-brainer, always go for the young outfielder who shows promise but ultimately flops. Morris, you're moving on. Watch out for Nolan in the battle royale.
So there it is, the first round is complete and the battle royale is upcoming. 14 combatants remain and it's an impressive bunch.
Go Halos!