It is officially summer for me today, as I wake up with the realization that it's Monday and I have no place to be for the next couple of months. So what better way to start the summer than with an ill-conceived, poorly put together and very likely boring to the non-Halo faithful, series of posts.
I've been trying to think of a way to feature more and more of my Angel cards on this site, without simply throwing them up sporadically. With that as a jumping off point, I decided to feature some of my team sets from throughout the years, but I knew I needed more than simply that. I'm a man who loves competition and bloody battles. Thus the birth of "The Battle of the Angels". It's one thing to show off a couple of cards, but I want winners and losers, I want to know definitively what is the best Halo card from a set, and I want to determine this through no specific criteria or sensible judging standards.
How will this all go down? Pairing cards up based on numerical order, each card will battle one another with me as judge. After many fierce skirmishes, a winner will be crowned.
To start off this extravaganza, and really what else could such an epic undertaking be, other than an extravaganza, we will look at 1975 Topps. A set known for its wild color combinations.
But wait, there's more. I upped the ante by creating my very own Battle of the Angels logo. That's right, utilizing my pathetic MS Paint skills, I went all graphic artist on you. My apologies to all of you who have actually skill, like
Mr. Punk Rock Paint
, whose eyes are most likely burning from the beauty below.
Today we'll start off with one battle, but I promise to expedite these rumbles in the future.
Entering the arena, straight out of Detroit, Michigan. He's a 6'3" southpaw, Card #16 Frank Tanana!!
And his opponent, coming from the City of Angels, weighing in at 200 pounds on the nose, the big righty Bill Singer!!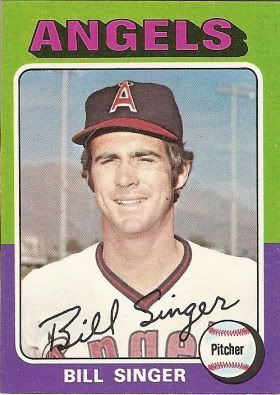 As the battel gets underway, it becomes quite obvious that Bill Singer is at a severe disadvantage. He can barely keep his eyes off of Frank's very impressive Topps Rookie Cup. Then there's the fact that Bill was a long-time Dodger who spent only 3 years with the Halos.
It's looking like this one could be an early knockout until you realize that Bill somehow pulled off 20 victories for an average Angels squad in 1973, while Frank's highest win total was a mere 19. Also working in Bill's favor is the immacualte green, purple and pink color combo. While not matching up with a single color in his Angels uniform, it is still quite pleasing to the eye. Not to be outdone though, Frank counters with the red and yellow, a combo that actually makes sense with an Angel player.
The pose, however, may just seal this one for Mr. Tanana. While Bill stares into the camera and does his best to appear kind, Frank will have none of that nonsense. Instead, he stares off into the orange groves of Southern California, showing complete disdain for his opponent. Well played Mr. Tanana.
Let's go to the card backs for a bit of trivia.
Thanks to Frank, we learn that Augie Galan never hit into one double play in 1935.
While Bill informs us that Babe Dahlgren took over for Lou Gehrig as first basemen of the Yankees.
I'm tempted to dismiss Frank's quite obscure fact until I look up Augie and discover that he had 748 plate appearances for the Cubs in 1935. Suddenly his lack of grounding into double plays is more impressive.
And with that, Frank Tanana has come out victorious in the first ever "Battle of the Angels: 1975 Topps". Although it appeared to be a mismatch early on, Bill Singer put up a solid fight and should be commended for his efforts. Frank Tanana however will move on to the next round.
As we roll on, I promise to feature more battles per post and most likely less of my inane rantings. You're welcome.
Go Halos!