While on vacation, I've decided to treat you, the loyal readers of I Heart Halos! to seven glorious days of Tim Salmon cards. I do this to not only honor the greatest of all Halos, but to honor you.
Day 6: Cards I REALLY Like (Creative, I know.)
1993 Flair #177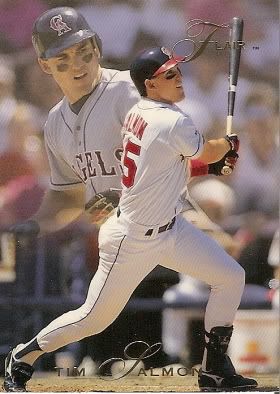 I love the minimalism of the design on this card. The classy Flair font adorns the brand name as well as Tim's last name on the card. The full bleed design is nice and I like the main image of Tim which shows Salmon admiring his shot to the opposite field gap. What takes this card to whole other level is the disembodied Salmon that appears to be looking down at himself in some sort of out of body baseball experience. Perhaps this is the secret to Tim's success, a sort of Angels in the Outfield approach to baseball.
1999 Topps Gold Label #29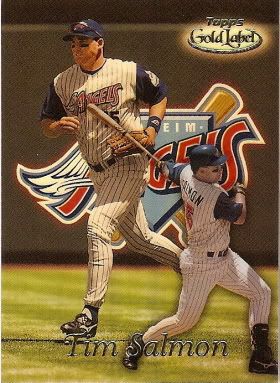 I recently posted the Darin Erstad card from this set and remarked then on how much I like the design for 1999 Topps Gold Label. It just feels like a premium card, heavy card stock, a non-distracting rainbow shine, dual images of Tim that don't compete with each other, and the Angel logo in the background. Despite this being probably my least favorite Angel logo of all-time, it always looks good being slightly covered up by the player images. I need to get myself on eBay and purchase this set.
1996 Upper Deck V.J. Lovero Showcase #VJ16
Maybe one of the coolest cards made for a mid 90s Halo fan. The image of Garret Anderson, Jim Edmonds and Tim Salmon, the outfield that was supposed to bring championships and respectability to the Angels for years to become. They all did get their championships, although only the corner outfielders got theirs with the Angels. Besides bringing together the three biggest Angels stars of the mid 90s, the picture itself is cool, playing off the Angel theme, with each player bringing his hand and glove together in a prayer-like scene, looking off in deep contemplation. Just plain cool.
Today's Tim Salmon Factoids:
As a young man, Salmon's favorite players were Ryne Sandberg, Dale Murphy and Steve Garvey.
In Cal Ripken's record setting 2,131st straight game, Salmon went 3-4, with a home run and a double.
Tim hit a walk off Grand Slam in the bottom of the 11th against the Indians in April of 1997.
Tim made the most money in a single season of his career in 2005. He earned over 10 million dollars that season and played in zero games. In 2006, he made 400,000 dollars and played in 76 games.
Won the Silver Slugger Award in 1995.
Tim's favorite sports announcer is Vin Scully.
Quote from Tim: "Be a dreamer, that's where you'll find your passion for the game."
So ends Day 6 of the Seven Days of Salmon.
Go Halos!