While on vacation, I've decided to treat you, the loyal readers of I Heart Halos! to seven glorious days of Tim Salmon cards. I do this to not only honor the greatest of all Halos, but to honor you.
Day 2: Cards of the 3D Variety
1996 Sportflix #106
Staring at this card in an attempt to appreciate the eye-popping 3D effects, left me with a headache after 8.5 seconds. While Salmon does pop out to some extent, the out of focus crowd is just a mish mash of mind-bending ridiculousness. I find it odd that they would choose to have Tim's image so far to the left, leaving a giant void of anything in focus.
1995 Sportflix #14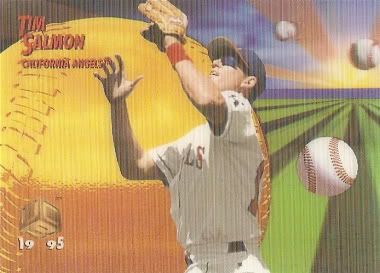 While this card does less damage to my frontal lobe, it's also quite boring. The only part of the card that is 3D, is the vortex of grass and baseballs flying from the horizon. Salmon appears to be standing in front of a red hot baseball of flame, which would explain the need for sunglasses. Complete design fail here.
1995 Sportflix Cyclone Squad #CS 18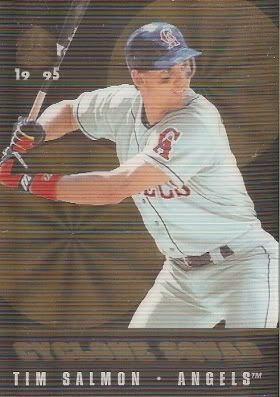 Here's a bright idea for a 3D themed set, let's put an image of the player in front of two gold, hypnotic spheres. Simply moving this card a fraction of an inch causes the "cyclones" to spin and for my eyes to be annoyed. I'm shocked these cards were being produced in the mid-90s after their failure in the 80s. Even as a kid I realized how ridiculous these cards were, but that didn't stop me from buying a few packs in the middle of Nebraska while on a family road trip. Perhaps Upper Deck can revive the Sportflix legacy in the same way that they've brought back O-Pee-Chee. Or not.
Today's Tim Salmon factoids:
Considered by many, including myself to be the greatest player to never play in an All-Star game. This still amazes me.
In his lone post-season, Salmon had an OPS of .908. His OPS in the World Series was 1.067.
Tim was drafted in the 18th round of the 1986 draft by the Atlanta Braves, but chose not to sign and instead attended Grand Canyon University. Chad Curtis was also drafted by the Angels out of Grand Canyon University in the same year as Salmon.
So ends Day 2 of the Seven Days of Salmon.
Go Halos!