While on vacation, I've decided to treat you, the loyal readers of I Heart Halos! to seven glorious days of Tim Salmon cards. I do this to not only honor the greatest of all Halos, but to honor you.
Day 3: Cards That Are Just Plain Cool...Kinda
1993 Studio #114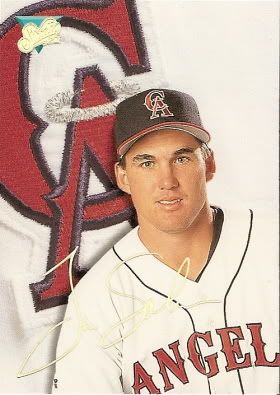 Okay, I know what you may be thinking, "Studio isn't cool, sorry Halo fan". And you wouldn't be wrong in thinking that. However, I really like this card. I like the cheesy backgrounds of the past have been replaced by the team logo. But rather than just a giant logo, they used the uniform patch with all its stitching. Salmon is pictured in uniform, instead of some cheesy mock turtleneck with poorly styled hair. Finally, the addition of faux signature done in a holographic, color changing way is pleasing to the eye.
1994 Topps Stadium Club Dugout Dirt #8 of 12 (card back)
Illustrator
Daniel Guidera
is responsible for this card back. For the life of me, I can't really figure out how he came up with this design, but I love it. The obvious play on "Salmon", but notice the look of fright on each of the defensive fisheys. True terror, while Tim looks extremely pleased with himself as he floats in the water...or is he up in heaven? Don't know, don't care, just like.
1994 Topps Stadium Club #36
This one is all about the photo. Salmon, an instant after making contact and most likely driving the pitch of some stinkin' Yankee into the middle of a bunch of monuments. Catcher is still poised in hopes of the ball getting past the bat of Salmon, with the umpire also making a guest appearance. Beautiful.
Today's Tim Salmon Factoids:
Tim made approximately $70,677,500 in his career as a Halo.
While playing for the Angels his entire career, Tim was a California Angel, an Anaheim Angel and a Los Angeles Angel of Anaheim.
Despite many people thinking Tim's career was over after he missed the entire 2005 season, Tim made the team as a non-roster invitee to spring training in 2006. In 2006 he would go on to hit .265, had on OBP of .361, and slugged .450.
Tim had the most home runs of any player to never make an All-Star game, while playing his entire career after the All-Star game came about.
So ends Day 3 of the Seven Days of Salmon.
Go Halos!