Dan from
Cheap Seat Saints
recently contacted me about trading Halos for Indians and I'm glad I accepted. Dan sent along a number of Angels that now have a very loving home here in Southern California. Here's a small sampling of the goodies. Thanks again Dan.
The only non-Halo in the bunch, Johnny Mize.
I've already mentioned multiple times how much I like this subset from 2009 Topps, so it's nice to add another legend to the group.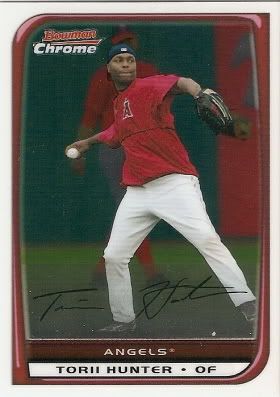 A chromey Torii. I like the sorta candid feel of this card. Definitely suits the laid-back and enjoyable nature of Torii.
Dan sent along a few 2008 Topps Chrome refractors which are really nice cards in person. I didn't have any chrome from last year, so these additions were welcome. I chose the Figgins to show off because I like the uniqueness of the photo. Leaves you wondering if he made the reach or if the ball ended up 8 rows back.
The Weav. Another card from a set I never collect. This is easily the best part of the blog trading circuit. So many people collect so many different sets that you come across cards you'd never get otherwise.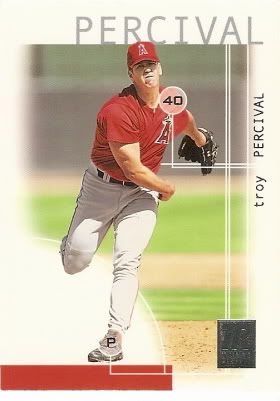 What a putrid design. Percy near the end of his Halo days. A moment of sadness.
Another design I don't quite understand. "The Nationals" is plastered across the card, for what reason I don't quite know. The positive, it's Timmy Salmon.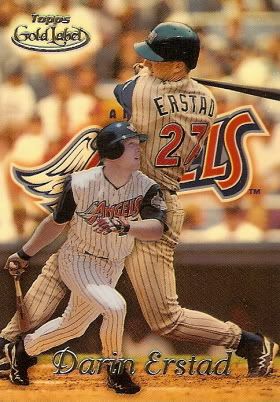 This may be my favorite set out there. I wasn't collecting in 1999 and only recently came across the set, but i think the cards are absolutely beautiful. I really need to find a set of these somewhere. Dan sent along three Halos from the 1999 Topps Gold Label set and each one is perfection.
I bought very little 2008 Heritage and continually saw this card staring at me on eBay. Nice to actually bring it into the collection.
Topps Finest, the home of middle reliever autographs. On the bright side, Rich's wife is a blogger,
Everyday Life
.
Thanks again to Dan for all of the Halos, they are much appreciated. Hopefully you'll enjoy the Indians I've sent your way.
Go Halos!