While some would say that
Night Owl
's best quality is his writing skill, which can be seen over and over through his entertaining posts, others would argue that his generosity takes the top spot. I, on the other hand, find something else to admire about the man. His penchant for pulling Halos! The man is an Angel magnet, which while unfortunate for a Dodger fan, means a windfall for this Angel fan. Greg, thank you for making me your dumping ground. I truly appreciate it.
So what exactly did Greg send along, a heaping of Halos. Here's a small sample.
A number of 1985 Fleer cards were sent along, that I can only hope were part of some Dollar Store finds.
I love everything about this Bobby Grich card. The giant mustache, the flowing mane, the bat awkwardly staged in his lap. Beauty.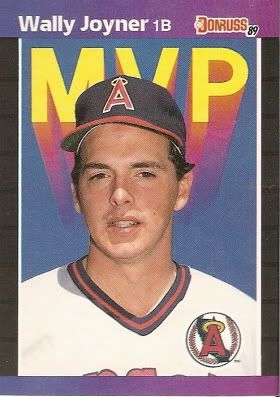 1989 Donruss is one of my favorite sets. I remember open a ton of packs as a kid and I always enjoyed the borders and their fading in and out of colors. Combine that with the boyish charm of Wally World and the ostentatious use of MVP on the card and you have a winner.
Garret the Brave, still pictured as a Halo. As Garret's career winds down, it's tough seeing him with another team. When Angel fans would criticize Garret it was okay, because he was one of our own and we all still had the memories of his bases clearing double in game 7 of the 2002 World Series. It's a lot tougher to hear Braves fan railing against GA, knowing that their only memory of him will be as an aging outfielder, struggling to keep up.
Words can't describe how I feel about this. On the day after Thanksgiving, we will be putting up our Christmas tree as we do every year. The first ornament going on the tree will be Mr. Glaus.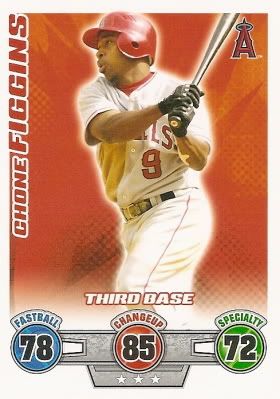 I have no idea how this game works or what the point of it was, but I enjoy its oddball appeal.
This is my first and only 2009 Topps Finest card and getting hold of it made me really appreciate the set this year. I normally try to open at least one box of Finest each year, but budget hasn't allowed for that this year. I was okay with that, until I got this beauty.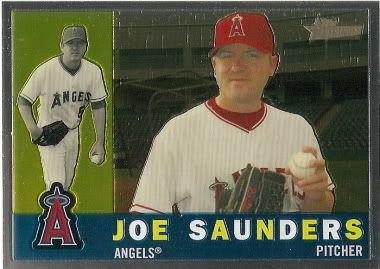 A second shiny Saunders from the Night Owl. If Joe could just avoid ever pitching in Texas again, we might have a chance this year.
It's especially odd to see a 2008 card that still features Bart as an Angel, but Timelines had more than a few of these. I pulled a Randy Johnson "Mariners" version of this relic. I'm fine with the flashback, but then why not just put Angels on the card?
I can't imagine how disappointing it must have been for Night Owl to open a blaster of Timelines and pull Bart the Angel and a blaster of UD and pull a K-Mo relic. Sorry about your luck Greg...wait, no I'm not. I thoroughly enjoy your rotten luck.
Greg also sent a long a number of other Angels, which have found a very warm home out here. Thanks again Greg for your generosity and best of luck with your Halo radar in the future.
Go Halos!