It started over at
Dinged Corners
and has since spread like wildfire through the card blogging world. The question they posed, "What are your 3 favorite on card autographs?". I was intrigued immediately, but realized right away, I'd never be able to narrow to just 3. So, being the rule breaker that I am, I decided to break mine into categories. My 4 categories: Angels autos, Baseball outside of Anaheim, Football and non-sports.
Today: The Angel Autos
Choosing just 3 Angel on card autographs proved to be too difficult for me, so I went with 3 and an honorable mention. Even so, I could have filled up this page with another dozen. Restraint isn't exactly one the traits that come to mind when speaking of me.
We'll start with the honorable mention, Wally Joyner.
The scan doesn't do this card justice, but since it's still encased in the plastic tomb provided by Topps, this was the best I could do. In person, this card just looks so clean and the signature pops out. Speaking of the signature, would you expect anything less elegant from the Mormon slugger?
Now onto the main event. In no particular order.
1. Jim Abbott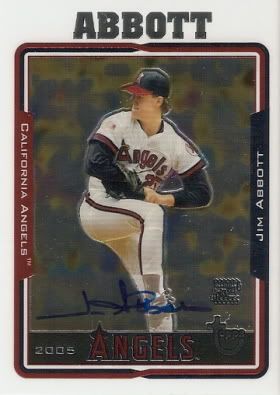 Unfortunately, this is another card in which the scan does it no justice. For whatever reason, chrome and scanners never quite work correctly. Had I been a bit less lazy, I'd have used the camera, but oh well, this is what you get with me. Love the signature, love the uniform, love the pose. There was something about watching Abbott as he transitioned from pitcher to fielder that just left you in awe. I still can't figure out how a guy with one hand makes the decision to become a pitcher and then not only does so, but becomes a successful major leaguer.
2. Garret Anderson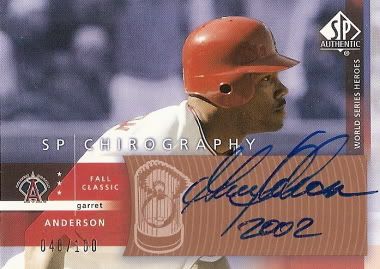 I've already espoused my love for Garret Anderson, but this card is cool for more than just the player featured. The card is a commemoration of perhaps the greatest moment for us Halo fans, the 2002 World Series. If you're an Angel fan you already know why Garret is labeled as "World Series Hero" on this card, if you're not an Angel fan, well, you should be.
3. Luis Polonia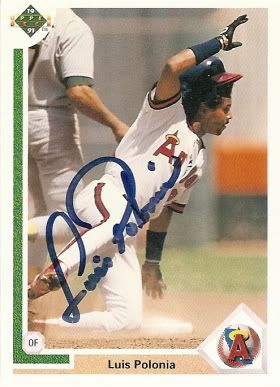 Was there really any doubt that this card and this player would end up on my list? This card was the first ever entry in my series of "
Cards that Define Me
". A series that never really took off and I really need to get back to. Luis signed the card for me at a fan appreciation day and instantly became a centerpiece of my collection. I could go on, but there's no need. Spend more than two minutes on my site and you'll become fully aware of my love for the man with the jheri curl mullet.
There you have it, 4 Angel on card autos for the price of 3. How could you go wrong?
Go Halos!