It started over at
Dinged Corners
and has since spread like wildfire through the card blogging world. The question they posed, "What are your 3 favorite on card autographs?". I was intrigued immediately, but realized right away, I'd never be able to narrow to just 3. So, being the rule breaker that I am, I decided to break mine into categories. My 4 categories: Angels autos, Baseball outside of Anaheim, Football and non-sports.
Today: Non-sports autographs.
1. In today's collecting world, it's almost impossible to talk non-sports autographs and not turn immediately to Allen and Ginter. So where better to start than with this little slice of genius.
First, I love Jeopardy! and can remember spending numerous nights laying on the floor in my family's living room as my parents battled it out over an episode. The show already had a place in my heart, but then Ken Jennings arrived and suddenly Jeopardy! was the biggest part of my television viewing. The wife and I would sit stunned as Ken just obliterated the competition. 74 straight wins, over 3 million in earnings. Truly hall of fame numbers.
2. Sticking with the Allen and Ginter theme, we have a man who I wouldn't even know exists without this card set.
The man is a world champion in the world of beard growing. Did you even know this country had a Beard Team USA before this card was released. As a man who is a fan of the pogonological arts, this man is my hero.
3.Finally, a break from the Allen and Ginter, but that in no way diminishes the sweetness of this autograph.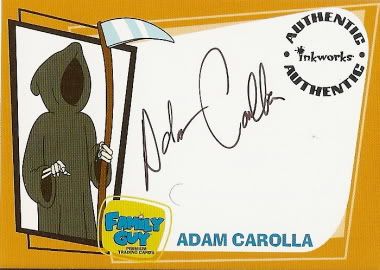 Adam Carolla can best be described as a comedy God. OK, that may be a bit excessive, but I love the guy's humor. Whether it was as a co-host on Loveline or The Man Show, or his time as a morning radio host, I can't get enough of the guy. Combine that with this card immortalizing his turn as Death of Family Guy and you've got a winner. I was raised on the Simpsons, but I was swept up in Family Guy almost immediately. Now if i could just find a card of the first voice of Death, Norm Macdonald.
There they are, my first of 4 installments of my 3 favorite on-card autographs.