It started over at
Dinged Corners
and has since spread like wildfire through the card blogging world. The question they posed, "What are your 3 favorite on card autographs?". I was intrigued immediately, but realized right away, I'd never be able to narrow to just 3. So, being the rule breaker that I am, I decided to break mine into categories. My 4 categories: Angels autos, Baseball outside of Anaheim, Football and non-sports.
Today: The Football Autos
I don't dabble in the collecting of football cards too much. I just don't have the funds or desire to chase it all down. That being said, I have added a few autographs over the years and a couple of them standout.
1. Marshall Faulk.
My love for Marshall Faulk has nothing to do with the uniform he's wearing on this card, but rather the uniform he wore for three years prior to entering the NFl. The scarlet and black of San Diego State University. As an Aztec alum, we don't have the opportunity to cheer for our football team all that often. But what we do have is Marshall Faulk. One of the greatest running backs in NCAA and NFL history. I could throw stats at you, but there's no need. Marshall Faulk is simply a beast.
2. Henry Ellard
You can have your Jerry Rice and John Taylor, your Mark Clayton and Mark Duper or any other combo you choose. For me, it was all about Henry Ellard and Willie "Flipper" Anderson. A dynamic duo of epic proportions. Hell, these two made Jim Everett into a Pro Bowler. It was a sad day in Anaheim when the Rams left town, but thank God they did. I don't how many more years of multi-purpose stadium baseball I could have made it through.
3. Christian Okoye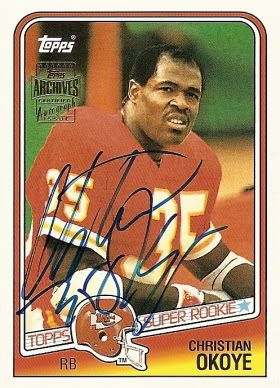 For those of us who grew up playing Tecmo Super Bowl on the Nintendo, Bo Jackson was easily the most dominant video game figure in our lives. The problem was that when you played against your friends, Bo wasn't exactly a secret and you'd inevitably get into a tussle over who got to play with the Raiders and who was left with a lesser team. The "Nigerian Nightmare" was a more than adequate backup plan for me. Oh yeah, and he wasn't exactly boring to watch on the real field as well.
3 on card beauties of 3 fantastic players. An Aztec legend, one of the great receivers of my childhood and maybe the second best Tecmo player ever.