So the Yankees have won another World Series. Whoopty Doo!
I should be happy for their fans, but I'm having trouble mustering the fake enthusiasm. I realize you had to "suffer" through a few years in the 80's without a championship, but that doesn't exactly impress me. Let's face it, it's easy to be a Yankee fan. Your team spends ridiculous amounts of money and if you have an off year, you can be guaranteed that your team will throw more money at the issue. This off-season alone, we all know that either Jason Bay or Matt Holliday will likely end up playing left field for you. Oh and that high priced Cuban defector, why do I feel he'll end up at Yankee Stadium next April. And I don't even want to think about the possibility of Lackey or Figgins heading to the Bronx.
But it's time for me to put aside my Yankee negativity and look at one of the few bright spots in Yankee history, at least from this Halos fan's perspective. A little guy who goes by the name of Luis Polonia.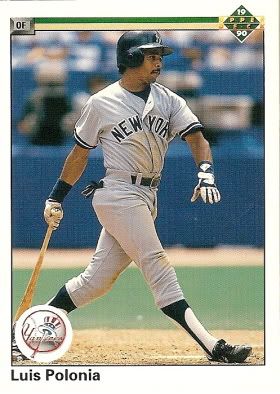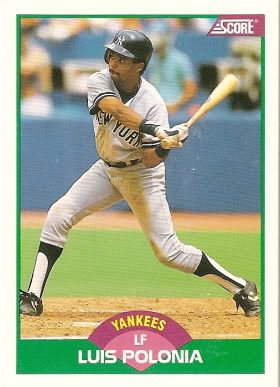 So while I find most everything about the Yankees to be vile, I will celebrate one of the great players of our day, Luis Polonia. Sure, he probably wouldn't fit in with the current crop of multi-millionaires, but he'd at least make them a little more likable.
As for my own team, it was a roller coaster year, but I one I enjoyed immensely. It started with the tragedy of Nick Adenhart, but the season ended with a number of triumphs. Although losing to the Yankees was tough, the sweep of the Red Sox was a really sweet moment. Perhaps my favorite moment of the season was Vladdy's single up the middle against Papelbon, that brought about the comeback victory. All the more satisfying thanks to Boston trotting out Dave Henderson to throw out the first pitch, a slap in the face to all Angel fans.
So for the most part, the season was a success, unfortunately with a number of free agents likely headed out of town, it could be a rough off-season. Oh well, we'll keep the faith and light up the halo again in 2010.
Go Halos!