First Figgy heads off to our rivals in the greater Northwest. You kinda knew he was going, but it still stings a little. Seeing him play against us will be painful, especially since we probably won't have the same luck in throwing him out while stealing that every other team seems to have.
Then, Lackey bolts for Boston and goes from adored winner of Game 7, to hated turncoat. Nice to know being in ace in Anaheim wasn't nearly as important as being a #3 in Beantown. Whatever.
Finally, the last of the big 3 is headed out of town and of course going to another division rival, this time Texas. I know that statistically Matsui should be an upgrade, but it just doesn't feel right. Vlad was fun to cheer for and of course incredibly frustrating at times as well. You can only watch him swing at pitches 2 feet out of the strike zone so many times before you start to question his hitting IQ.
The bigger problem with Vlad was that he was the face of the franchise. Sure, he had no business hitting cleanup for the last half of the season, but would it have been so hard to just move him down in the order and reap the benefits of a hitter in the 6th or 7th hole who had some pop?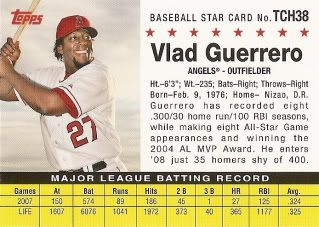 One less smiling face to adorn Angel cards in 2010.
As far as baseball decisions, I can understand letting Figgy and Vladdy leave, I can even make the case that Lackey wasn't worth nearly that much money, especially over 5 years, but the problem is I'm a fan. And so is my daughter. Every time she sees me watching football she asks when the Angels will be back on. I try to explain the calendar how there is a season, but that has little effect. So as she scampers away she chirps about seeing Figgy and Vlad. Not sure that explaining the free market and the dynamics of free agency is going to go over well.
We're gonna miss you Vlad and Figgy. Hope you choke on your chowder Big John.
Go Halos!